The Italian Job…
The Tuscan hills bulged like the limbs of a Botticelli woman. The roads delightfully twisted through these curves and I noted to myself that next time when taking a job here I would write in my contract that I needed to do the shopping in a Ferrari. A red one.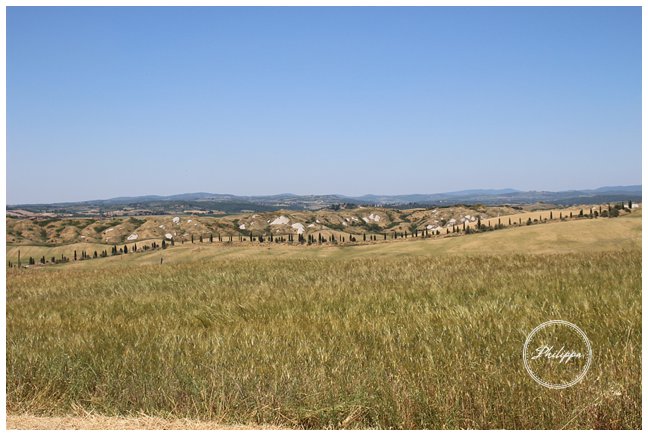 The job for the week was to cook for a group of fun loving individuals that had flown in from all corners of the globe to celebrate a milestone birthday. They had taken an incredible villa plopped reclusively atop one of the stunning Tuscan hills. With temperatures dallying around 30°C it was all about outside dining, soaking up the stunning views, pre dinner cocktails and feasting on perfect Italian produce.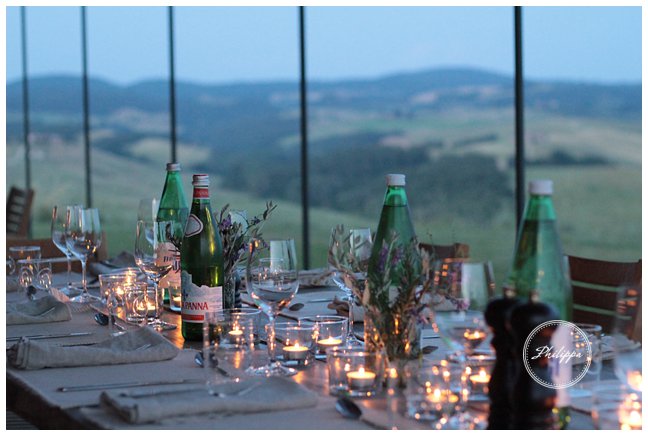 One of the guests bounced into the kitchen on the first evening and inquired if I was into cocktail making.
"Indeed I am!" I said.
As I had a full-on professional bar at my disposal I got shaking.
I know there is some weird and wonderful mixology going on out there like drinks made from 'Smoked rabbits breath' or 'Dehydrated Louboutin sole dust' however when I try one of these new concoctions I cant help but feel I would rather have just had a dry martini or a whisky sour. Needless to say then the cocktails during the week were all classics like cosmopolitans, mojitos and Long Island iced tea…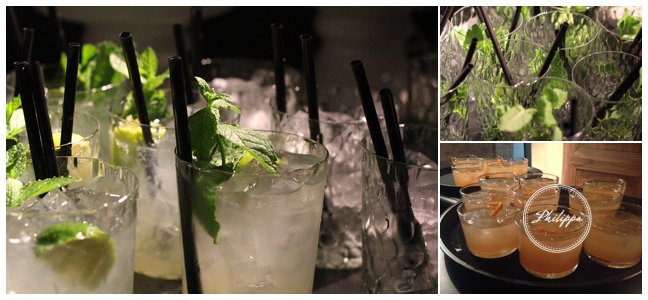 The week before the job began I was discussing with the client what they might like to eat during the week. We got as far as 'Italian' and kind of stopped there. This suited me as I realise the more I travel to new places to cook the best way to plan menus is to go to the shops and see what looks best and use that, rather than going armed with a rigid list and set dinner idea. Anyone who has food shopped in Italy will realise that produce, even in the local supermarket, is generally superb, very seasonal and almost entirely centred around traditional Italian ingredients.   By this I mean you will find it hard finding ingredients like limes and coriander but there will be 6 different types of ricotta and 5 different types of aubergines.   A truly impressive and beautiful way to cook and shop.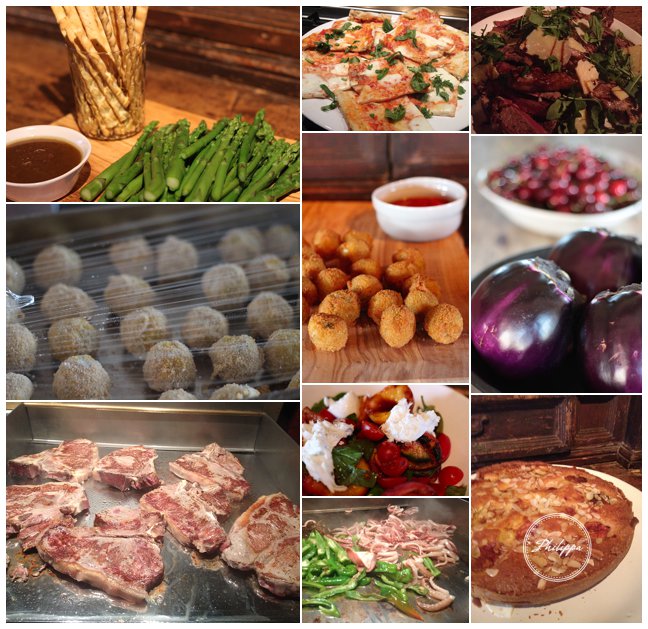 The main party was to be held mid week and the menu read as follows:
Canapé
Arancini with slow cooked tomato sauce
Cocktails
Mojitos and Aperol Spritz
 Starter
Deep fried zucchini flowers with prosecco batter and stuffed with sheep ricotta, anchovies and pine nuts
Grilled peach, tomato salad with mozzarella , green fig and balsamic
Main
Florentine steaks
Chilli squid
Borlotti beans
Roast courgettes with lemon and mint
Pudding
Salted caramel ice cream
Birthday Cake
Pressed chocolate cake with mascarpone and strawberries
I spent a glorious day buzzing around prepping including a quick 20 minute sit down at my desk in my 'Tuscan office' whilst dealing with the borlotti beans.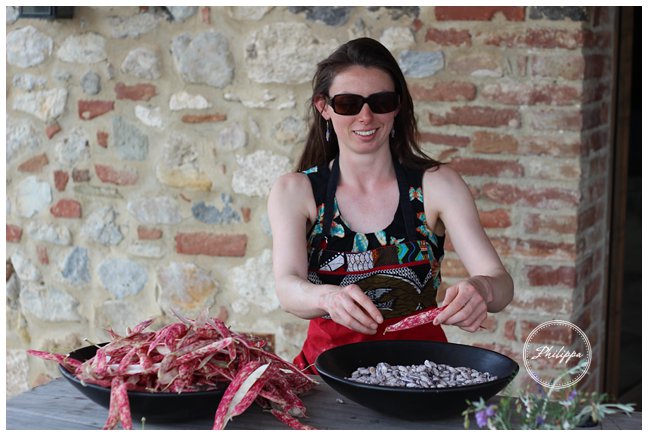 The party was a huge glittering success from the stunning fashion worn by the guests to the last morsel of chocolate cake that was left by the end of the night.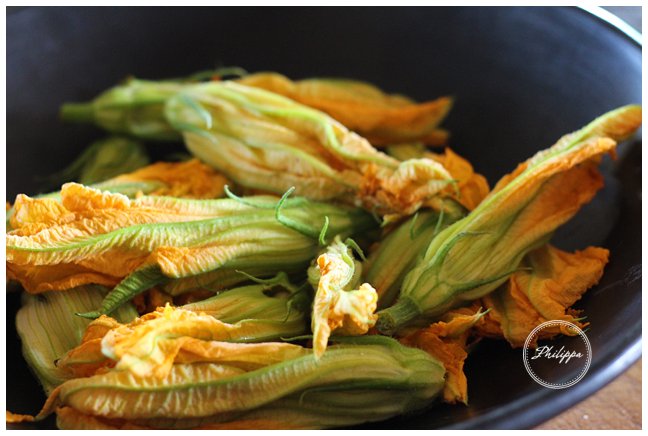 For the rest of week there was plenty of other feasting including a boozy tiramisu whose left overs got turned into an ice cream, a pizza night for 16 that had to be done with an improvised rolling pin (I feel at some point I should do a post on what every ideal working kitchen should have), simply grilled vegetable salads dressed in rich balsamic and Tuscan olive oil and lots of veal saltimbocca.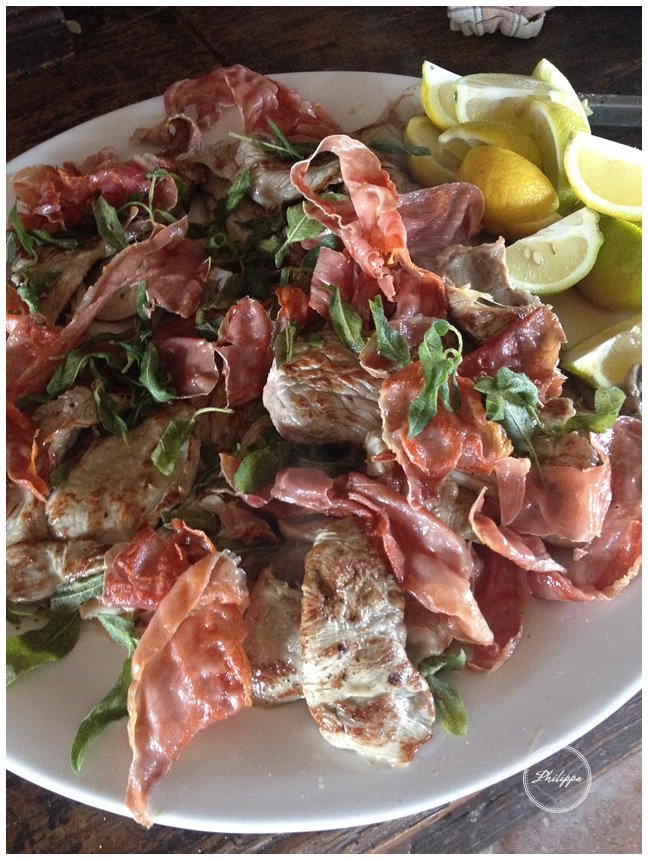 Job done, bags packed and the sat nav set for Florence airport I am weaving my way back to the UK to cook for a party in London.
For my postcard recipe from Tuscany I have chosen to share with you the deep fried zucchini flowers in Prosecco batter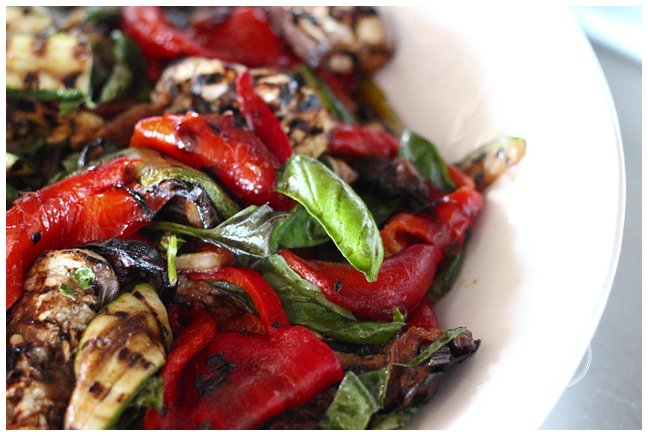 This week's stats:
Cocktails made: 165
Transport: A red Ferrari (trapped in a Peugeot 206 body).
Every home should have: A Sonos music system and a Teriyaki grill.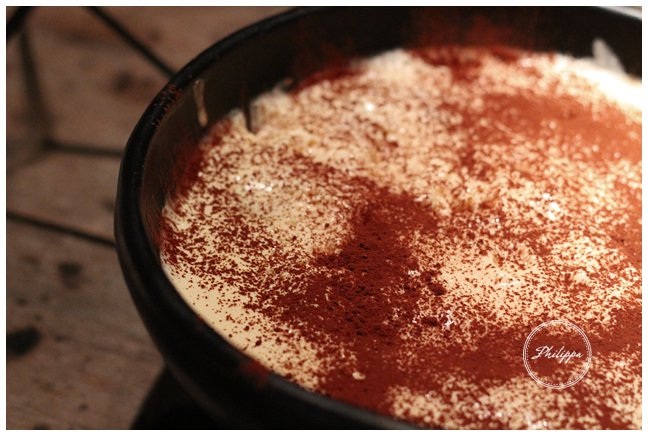 Deep fried zucchini flowers with prosecco batter, stuffed with sheep ricotta, anchovies and pine nuts
Serves 4 as a starter
You may think it is extravagant using prosecco in a batter when you could substitute sparkling water but its not like I used a Don Perignon 1995. No, that was a totally different party and recipe….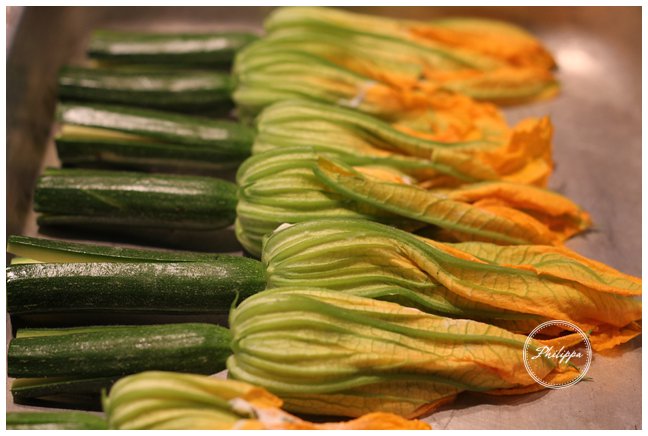 Ingredients
8 Flowers (As a starter you probably want 2 each)
Stuffing Ingredients
2 tbs pinenuts toasted and roughly chopped
8 dessertspoons of ricotta
3 anchovies fillets finely chopped
2 tbs chopped mint
zest of 1 lemon
Batter
200g self raising flour
1 egg
450ml Proseccco.
1 litre sunflower oil
To serve 2 tbs runny honey
In a bowl mix the stuffing ingredients and season with salt and pepper
Carefully spoon the mix into the zucchini flower heads (A teaspoon works best) then seal back up the flower by pressing the petals to the ricotta mix you just put inside. (You don't want it bulging with ricotta mix, about 2 or 3 teaspoons for each flower depending on size should be perfect).
They can be left in the fridge all day if prepared in advance but I would bring them out around 1 hour before being fried so they are not really chilled right through.
Make the batter about 1 hour before using by:
In a large bowl add the flour.
Crack the egg in the middle then start adding the prosecco until you have a smooth batter (about the consistency of double cream).
Leave the batter at room temperature until ready to use.

To fry, the oil needs to be about 3 inches deep so if you don't have a deep fat fryer and are using a saucepan bare this in mind.   Heat the oil up to about 190 °C or so that when you drop a few blobs of batter it immediately sizzles.
Get ready a plate ready lined with some kitchen paper and a slotted metal spoon that you can fish the frying flowers out of the oil with.
When the oil is hot give the batter one more quick whisk then carefully fully dip the stuffed flowers in the batter.   Pull out of the batter and let the excess drip back into the bowl then carefully slip into the oil.
They will take about 2 minutes to fry and might need gently turning over as they tend to roll onto one side. You can cook about 3 or 4 at once.
Remove from the batter and transfer to the paper.
While still hot transfer to the serving plate, drizzle with honey then serve.