Heading for the Scottish hills
Having patted the dog, waved goodbye to my folks and navigated the hills and winding lanes out of the West Country I have to admit I felt slight pangs of loss.  What could I do to buck up my spirits?  Find a new taste sensation of course. My journey to Edinburgh to cook for a bon voyage lunch just happened to be perfect timing to visit the Royal Highland Show and so discover a tasty delicacy.
For those of you who have not been to this great event and own a tweed suit or even a Barbour, you have completely missed the party.  The Royal Highland Show is a celebration of all things country, indeed it is regarded as the highlight of the Scottish Farming calendar.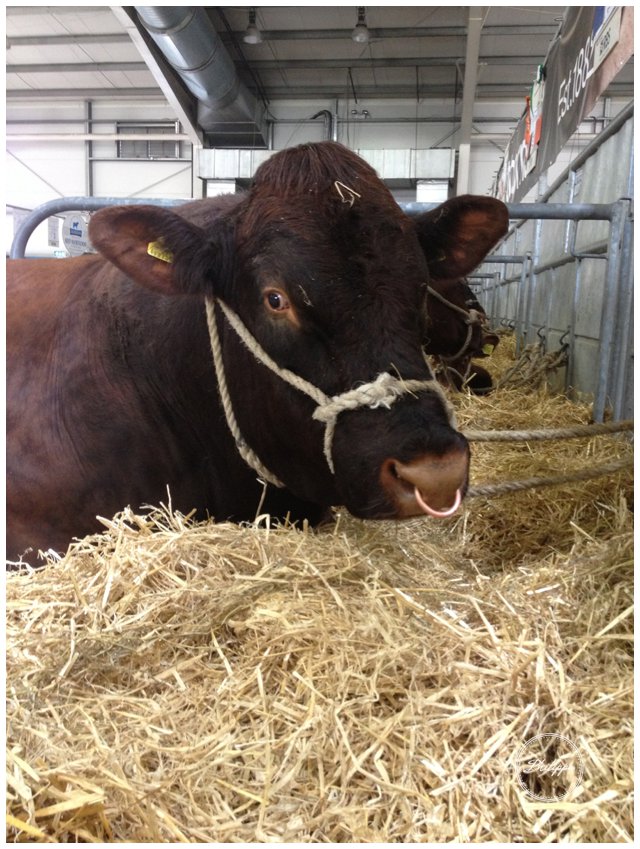 Upon arrival, having first checked out the farriers, sheep shearers and country land owners tent I was heading off to find the gun dog demonstration when I became distracted by a queue of people calmly standing in billowing clouds of smoke.
Some Scots are known to thrifty , so it came as great surprise to witness a whole long line of them eagerly handing over their cash in exchange for a paper plate, a wooden spoon and a smoked fish. I joined the line, happily parted with three pounds and tucked into the flaky morsels of my first Arbroath Smokie. Wow, I had almost forgotten that smoked fish could be as good as this, no alarming orange flesh or acrid bite just a delightful creamy bronzed smokey fish.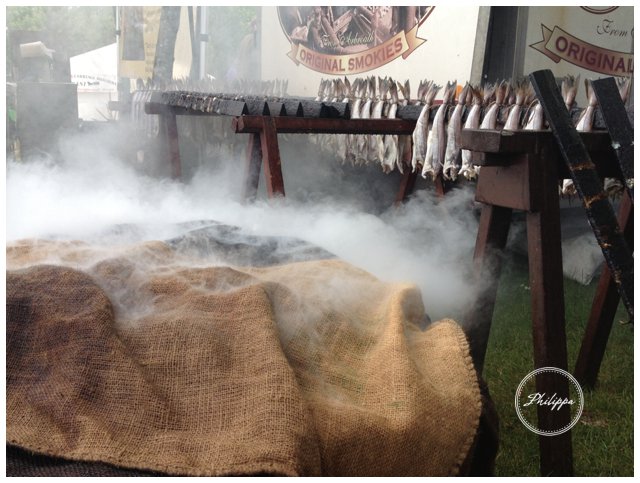 Now with geographical statues – i.e. you have to be a haddock, hot smoked in an up turned whisky barrel within 5 miles of the town of Arbroath on the east coast of Scotland, to win the title of the Arbroath Smokie, this delicacy has protection from poor imitations.  The internet shows many suppliers that will send Arbroath Smokies to your door, I was eating ones produced by the renowned Iain R. Spink  – http://www.arbroathsmokies.net.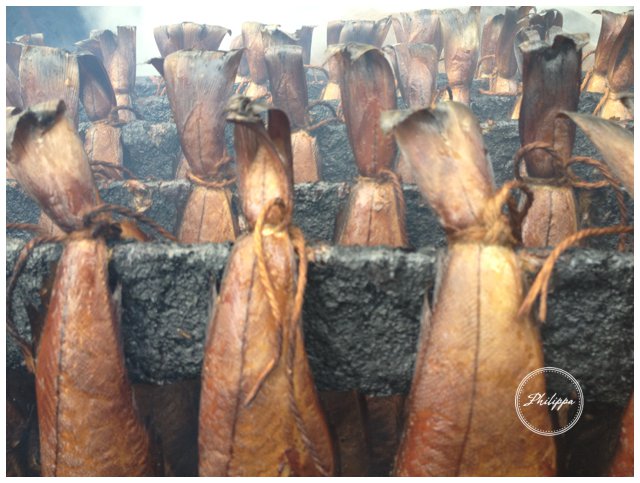 Having gobbled all mine I rejoined the queue and bought some for the lunch party the following day.
Setting out the table for guests to select from the groaning spread ( there was honey roast ham / new potatoes with basil mayonnaise, fried garden sage and toasted  almonds / celery, apple and fennel coleslaw / Lanark blue cheese, puy lentil and walnuts with crab apple jelly dressing / arbroath smokies and more..) the table looked like it needed just one more thing- a few bunches of flowers.  Heading outside, the garden had some magnificent lilacs which I knew would look great and then looking over the vegetable patch I had an idea.  The curly kale, now finished but bearing beautiful yellow flowers and about to go on the compost would make an excellent arrangement.
Feeling in an adventurous mood I nibbled  a few of the curly kale flowers on the way back to the kitchen, very edible I thought so sprinkled a few on the potato salad, decorative and edible; how useful.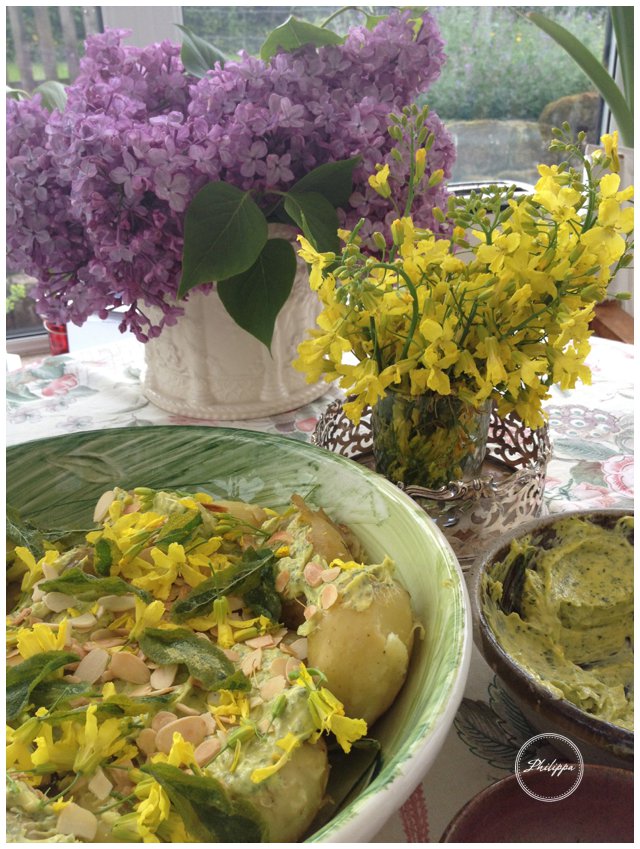 The next Postcard;
Hopping on a plane I am heading for warmer climates, swapping my old worn out Barbour for my summer dresses, sunglasses and flip flops I am off to one of my favourite regions to work in, Provence…