The Brunch club…
Anxious texting, emails, and phone calls preceded the start of the weekend.  The hosts and I were keen to make this season's final pheasant shoot end with a bang (literally for the pheasants) and the Met Office red weather warnings littered with negative temperatures and snowstorms were not helping. I dressed in 5 layers from head to toe (I'm turning into such a softie southerner) and donned my boots to head north….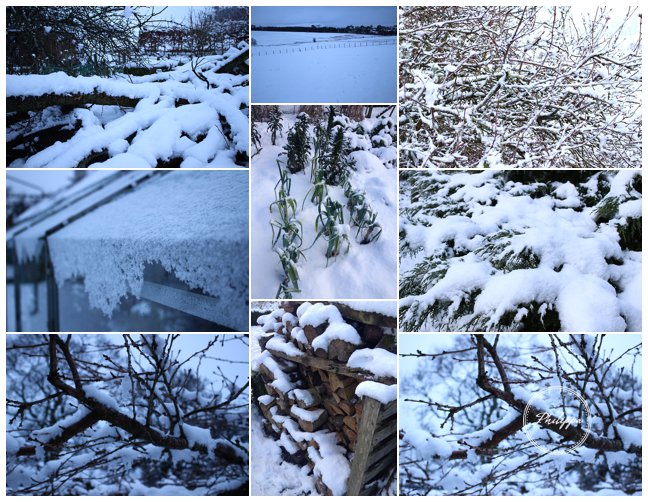 Travel plan A was vetoed as my car (stationed in the Borders) was snowed in, so I thought I would try my luck with the train in order to travel from Edinburgh to Perth.  Whilst scooting across town from airport to train station I noticed a charming element to Edinburgh, well actually there are many. Even if it is howling a gale and the chilled rain is lashing down everyone always queues very politely at bus stops, preferring to brave the elements rather than form a disorderly queue huddled under the shelter.  I don't know what the'Edinburghers' would make of the T.F.L. shenanigans.

The train was quiet and much to my surprise out of the window was….. a perfect bright sunny Winters day which turned almost tropical when I arrived at my destination (well a barmy 1 °C and plenty more sunshine).  Ha! So much for red weather warnings.
My first task was to do the mammoth shop that every shooting weekend requires, although I had lugged up half a cow and some fish with me on the train. Zooming around the shops, I admit I can never quite believe my calculations…10 packs of butter, 90 eggs, 5 pots of double cream, the ½ a cow… but come the last meal of the weekend and seeing the nearly empty larders and fridges I am always relieved I stocked up.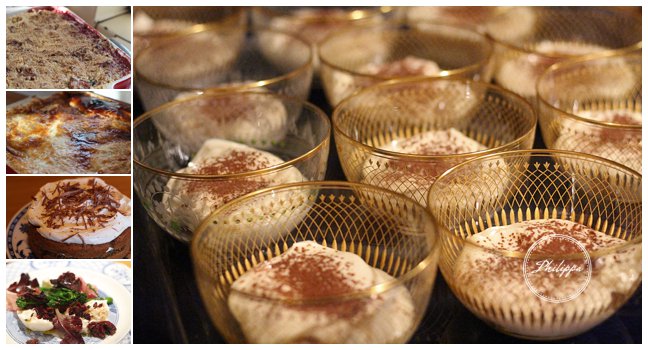 A shoot weekend will often consist food wise of Friday night dinner, Saturday breakfast, elevenses, lunch, afternoon tea and dinner and Sunday breakfast and then Sunday lunch.  The host this time however opted for a Sunday brunch, which I have to say, was a wild success.  After a few impressive days of feasting, partying and the occasional glass or two of wine, having then to scoff  a Sunday lunch can seem a bit of a hurdle as far as eating stamina goes.  Brunch however is great; it allows the guests time for a lie in, the food is naturally designed as a great cure for any possible hangovers (I know a cooked breakfast can do this too but Brunch somehow seems more digestible) and there is still time for a Sunday morning walk before everyone has to toddle back to their homes.   I tell you it's all about Sunday brunch!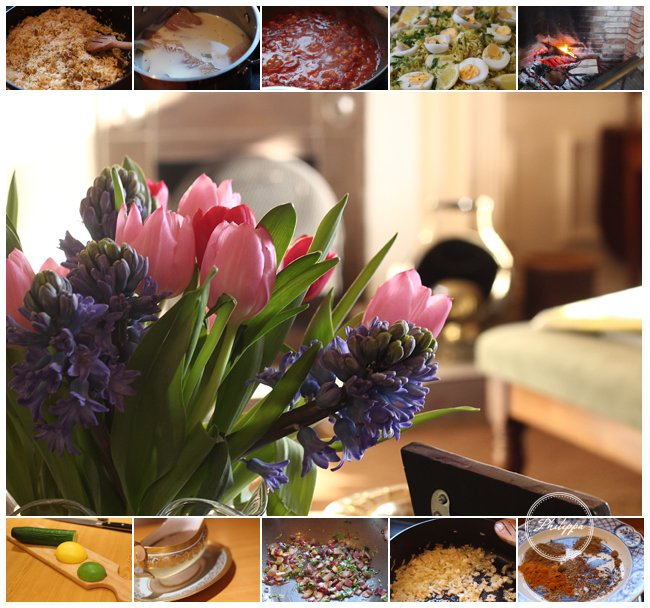 Brunch is said to have kicked off in the late 18th century and was delightfully described as the Sunday meal for "Saturday night carousers,".  This postcard recipe is the spiced baked eggs I cooked as part of theirs.

Job done, bags packed, the remaining pheasants are enjoying their end of season survival party and I'm heading to London to cook for some 'ladies what lunch'…..
This week:
Is a better one to be a pheasant.
I'm travelling with my hot water bottle.
Every home should have: an Aynsley Gravy Boat
4.5 kilo of potatoes were scoffed.
Its ALL about brunch
Baked eggs with spiced tomato, chickpeas, coriander and yogurt
Serves 4
1 tbs olive oil
1 red onion finely chopped
1 clove garlic finely chopped
10g washed coriander, stalks finely chopped and leaves roughly chopped
½ tsp ground cumin
½ tsp turmeric
½ tsp. ground cinnamon
1 tsp. finely chopped red chilli (more or less depending on your heat preferences).
800g tinned tomatoes
1 tin canned chickpeas drained and lightly rinsed.
4 free range/ organic eggs
2 tbs yogurt
2 spring onions roughly chopped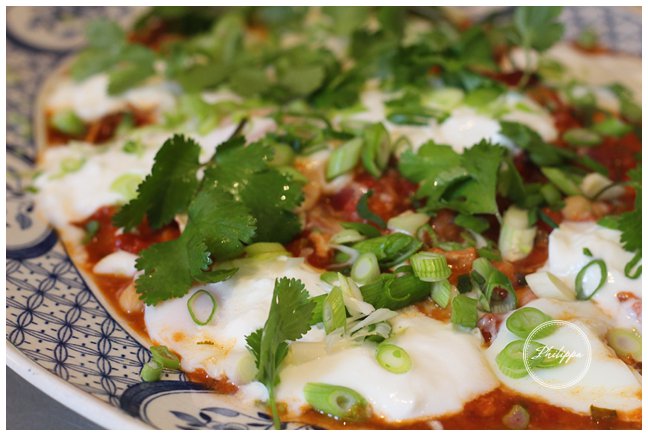 In a wide deep pan (I used a wok) that you can put a lid on gently fry the onion and garlic in the oil.
Once softened (about 4 minutes) add the spices and chopped coriander stalk, fry for a further minute.
Add the tinned tomatoes and chickpeas, season with salt and pepper and simmer for 10  – 15 minutes stirring occasionally. You want a tasty sauce that s not too dry or wet.
Check the seasoning and when perfect crack the eggs into the tomato mixture, place a lid on top and cook the eggs till for about 4 minutes (ideally you want a cooked white and runny yolk).
Slip out onto your serving plate and garnish with dollops of yogurt, a sprinkling of spring onions and the coriander leaves.