Did I 'over cep' the mark?
The week was not as planned. My diary had me in the dramatic depths of wild Scotland cooking for my first grouse shoot of the season, slapping on the mosquito spray and cooking up a variety of game themed feasts. Tweed cap, puffy jacket, gloves and various layers were ready to be packed.
With a last minute change due to lack of grouse reality had me in the bucolic rural Gascony countryside cooking mostly vegetarian food, slapping on the sun cream, darting round the prettiest of French markets and swimming in a magnificent lake.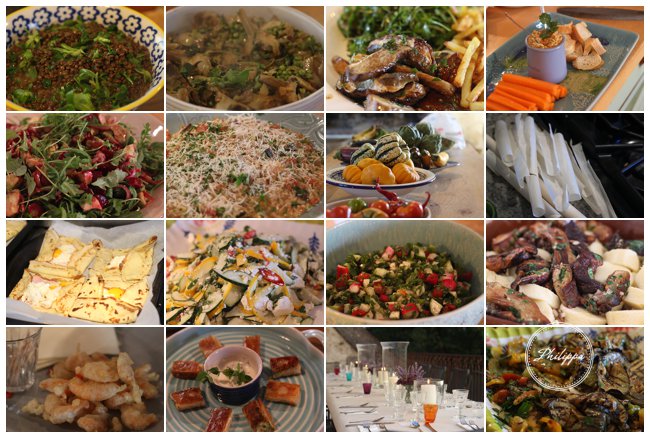 I will save the sad tale of what's happening in the grouse world for a future postcard. As for now it's all about the gastronomic delights of Gascony.
The job was to cook for a family and their friends just west of Toulouse. Despite the area being the home of cassoulet and famous for its duck and foie gras my brief was to focus mainly on vegetarian food. This turned out to be an extremely delightful and easy request to fulfil as the markets at this time of year in this part of the world have an impressive over lap of summer and autumn ingredients. My main joy however was that I had arrived in time for the very start of Cep season, that wonderful mushroom so abundant in these parts.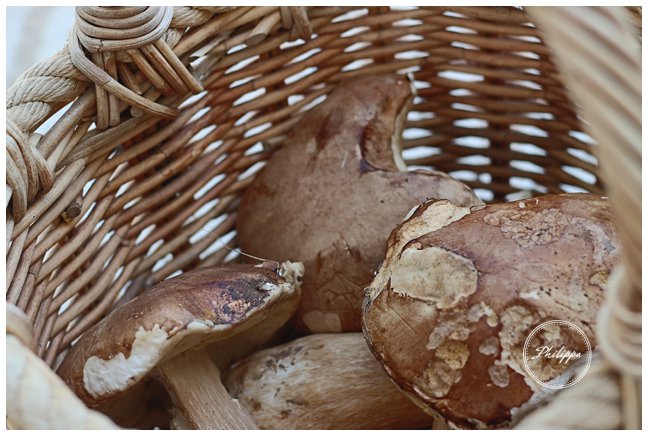 Ceps as they are called in France or Porcini as they are called in Italy ( meaning piglets) or Stienpilz as they are called in Germany (meaning stone mushroom) or to be ultra highbrow Boletus edulis in Latin are mycorrhizal. Meaning they have a symbiotic relationship with the plant roots they grow around, this in turn means they are pretty hard to cultivate so have to be wild and foraged.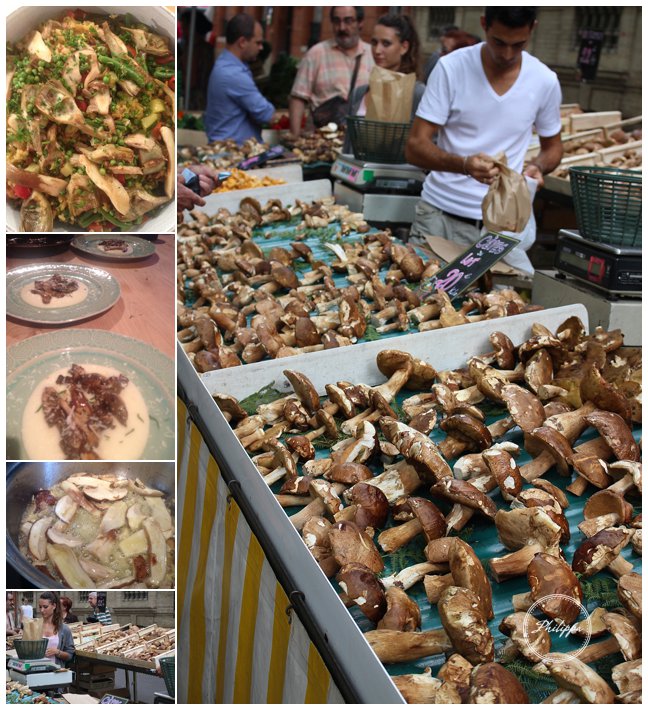 Not having to do breakfasts I had the chance to go every morning to a different local market in the various medieval towns, all of which seemed more idyllic then the last. Perfectly charming covered squares, roofed with tiles and supported by large wooden beams, bustling with locals doing their weekly shop and catching up on gossip over their morning pastry and coffee.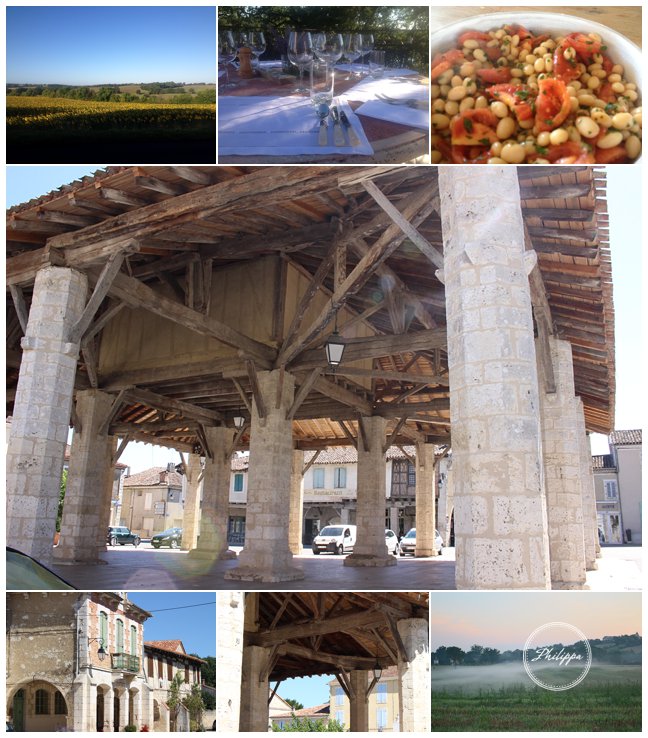 At every market I would be drawn towards the cep seller and couldn't help but buy a few. By the end of the week I had managed to slip them into most of the meals but as they are so special I don't think anyone minded. My personal favourite was serving them roasted whole with butter and garlic with frites and rocket on the side although this postcard recipe of ceps with baked polenta Gruyere and butter was another triumph.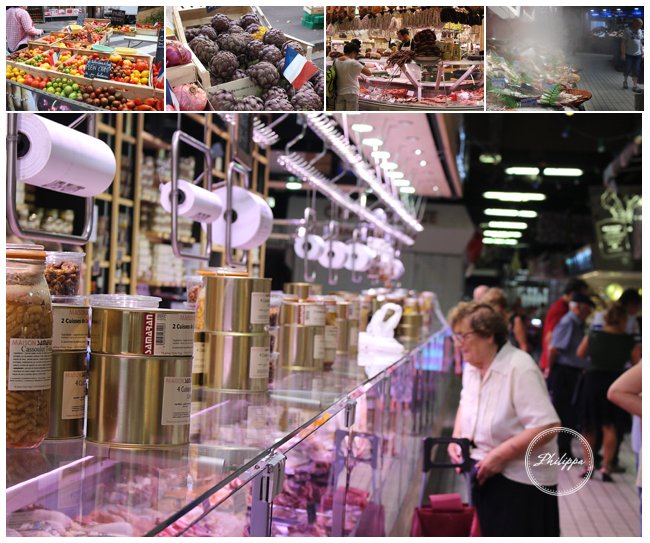 Mid way through the stint I was given the chance to take the journey back into Toulouse to shop at the famous Victor Hugo market, the city's culinary pride. Knowing that you have to be there bright and early to get the best I set off just before the sun was casting its first light over the many sunflower fields and arrived into the city in what I thought was good time.   I dashed straight to the market to find half of the stalls still shut and the other half leisurely getting out their wares. According to the internet and guidebooks this place should have already been open for 3 hours, according to them they were still enjoying their morning coffee and paper.   When the market finally was up and running (about 10 am) it was impressive. Besides the market itself the surrounding streets are dotted with more gastronomic genius, there is Xavier – one of France's best cheese shops and Olivier, apparently one of the oldest and best chocolatiers in France – though as they were on their two month summer vacation I am yet to form my own opinion.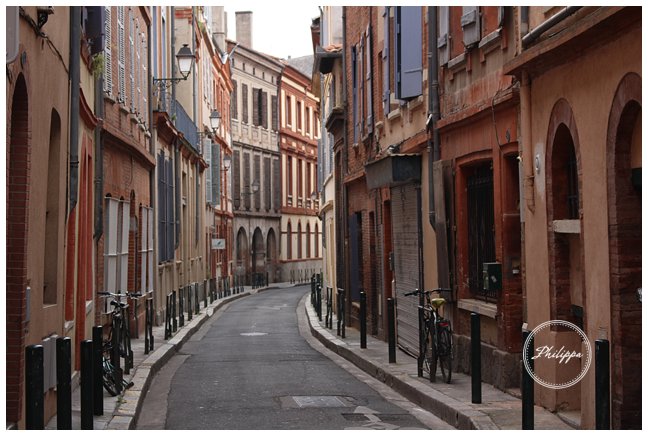 The main event of the week was the client's end of summer party. With mainly vegetarian dishes requested the menu read as follows: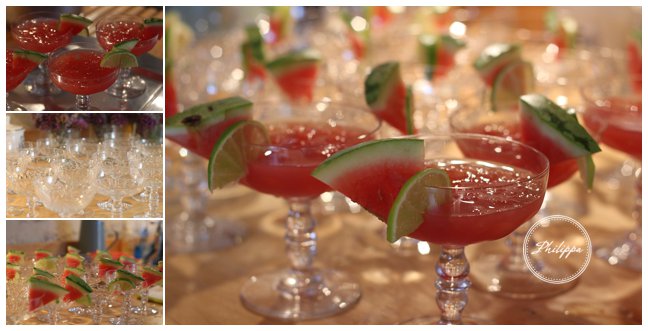 Cocktails
Watermelon margarita
Canapés
Crispy prawns with chilli and mint
Pea and feta fried pastry with garden mint yogurt
Speck, chateau honey and ricotta
Main
Fried ceps with baked polenta, butter and parmesan
Grilled aubergine and pepper salad with garlic and Bandol vinegar dressing
Baked squash with pomegranates, tahini and tabbouleh
Green fig and tomato salad with pinenut and green herb dressing
Roast potatoes with rosemary
Roast fillet of beef
Dessert
Summer pudding with vanilla cream
Chocolate roulade
Cheese board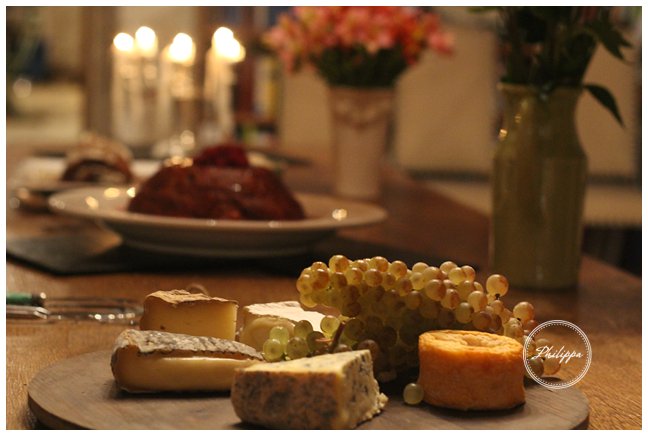 It was a beautiful evening and from the cocktails to the obligatory cep dish and the chocolate roulade (amusingly/cheekily billed as a cousin of the artic 'swiss roll') to the cheese board everyone had a rather jolly time.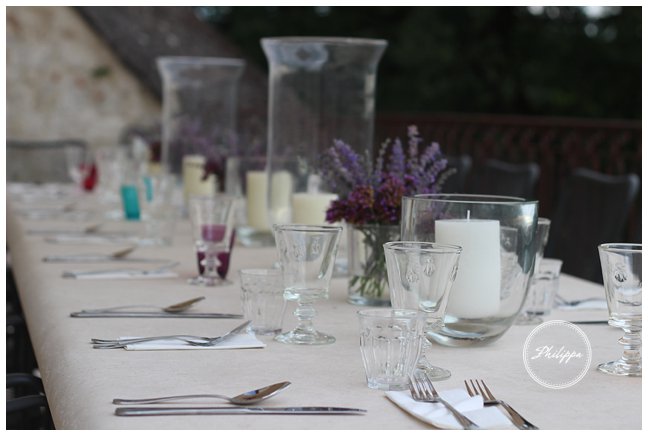 When not at a market or in the kitchen I was encouraged to take a swim in the beautiful pea green lake. So after lunch had been cleared away and supper prep was under control I took myself down for a cooling dip. I happily jumped in and leisurely swam out to the raft in the centre. Surrounded by the tranquil setting of weeping willows, woods, fig trees and lines of apple trees I couldn't believe how peaceful it was until… I heard the most enormous splash from the other side of the expanse of water. After the initial surprise I rationally thought it could only be one of two things.
A child throwing something into the lake then hiding to tease me
or
With only one way back to shore I swam back keeping half an eye out for movements in the water not made by me. On return to the house I learnt I had in fact only being sharing the lake with otters and giant carp – harmless!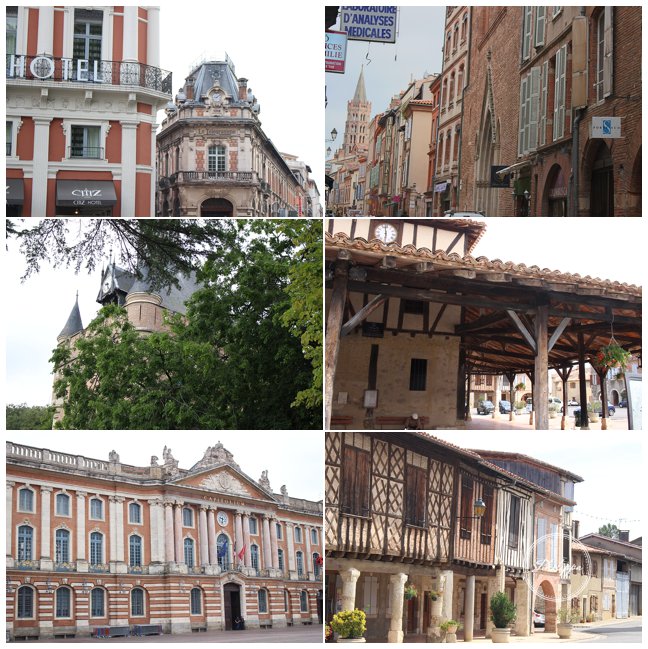 I did have to slightly force myself back in the next day and was fine until I heard again that giant splash. I turned in time to see the body of a large fish submerge into the water. Harmless or not it did wonders for improving my time in my swim back to the shore.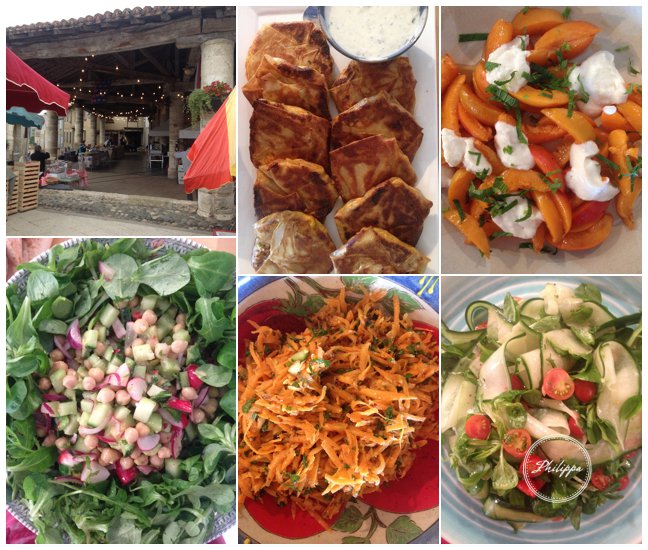 This week
I' driving: Landrover and a Citroen with an impressive tardis like boot.
I'm in: Equestrian heaven
Dishes cooked with ceps: 9
Attacks by giant carp: 0
Encounters with Mr Darcy: 0
Every home should have: a lake
Job high: no Ketchup required
Job low: not knowing what lurks in the lake.
Fried ceps with wet polenta and Gruyere
This would make a great starter although I used it as part of the feast for their end of summer party.
For polenta sceptics just try it and think of it as a vehicle for butter and cheese and then make your minds up.
Serves 6 as a starter
For the baked polenta
200g Polenta
1 litre whole Milk
150g Gruyere plus extra
3 Egg yolks
150 g Butter
For the Ceps
800g Ceps approx 4 /5 large mushrooms sliced fairly thick.
50g butter
2 tbs olive oil
2 cloves garlic
2 tsb finely chopped parsley
Place the polenta in a jug (this helps with the pouring).
Heat the milk in a heavy based saucepan, just before boiling pour in the polenta in a steady stream whisking continuously.
Stirring constantly, cook on a low heat until no longer grainy in texture – the quick cook usually takes about 5 minutes and the proper stuff takes about 50 mins.
Then add 100g Gruyere, the egg yolks and 100g of the butter. Stir well.
Pour onto a tray and leave to cool and then place in the fridge for 1 hour to firm up.
Pre heat the oven to 180 ° C.
In a wide frying pan melt the butter with the olive oil, when hot add the chopped ceps, fry for a minute then add the garlic. Fry till you just start to smell the garlic ( about 1 minute) then take off the heat, season with salt and pepper and stir through the parsley.
Cut the chilled polenta into shapes and lay slightly overlapping in a lightly buttered baking dish, top with the fried ceps, extra cheese and butter.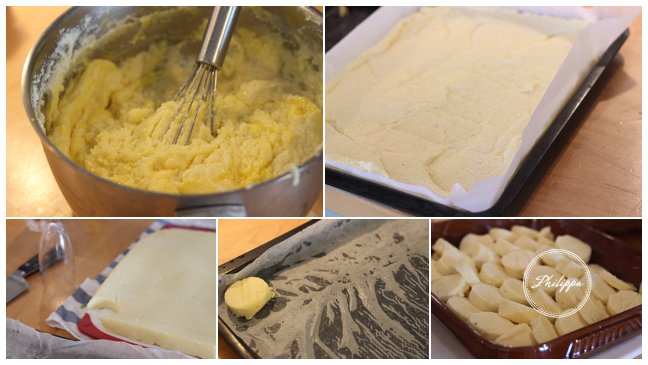 Bake for 15 mins.
Serve hot.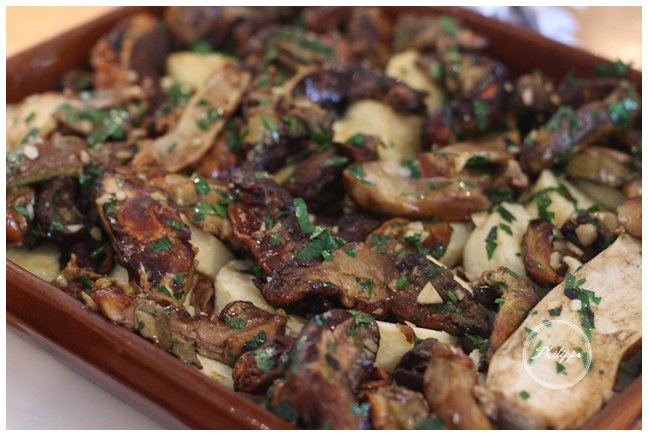 Next stop… Lisbon.