Smoke gets in your eyes…
You might want to get your credit cards out now as you are all going to want one. Or better still start rummaging round the tool shed so you can build your own even though;
Parents will advise you against it.
It's seriously addictive.
It goes really well with a few beers (Ipswich Ale the choice here in Boston)
When over indulgence occurs you don't feel great the next day – even if it seemed a good idea at the time
I am of course wittering on about that fun process of striking a match and lighting up…. to produce some woody smoke to flavour and slowly cook hunks of food.
My first attempt at smoking pork ribs  over here was, ok. They were a little too lean to start and I don't think I had quite become master (mistress) of the coals and wood chips so misjudged the heat and timing. Even though the results were not perfect it was an enjoyable experience. The second attempt however was the stuff food fetish dreams are made of and I can honestly say I am truly hooked. Feel free to drool over my second attempt at ribs pictured below…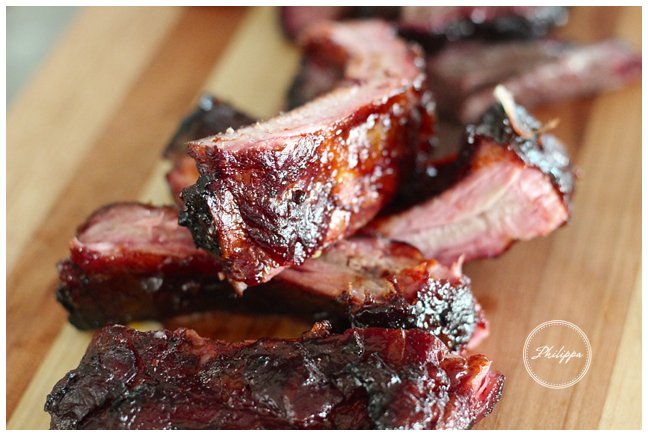 With a great gathering due to happen at the house I thought it was a perfect opportunity to do some more smoking and with my obsessive nature I decided to smoke as much as I could. Chicken, beef ribs, more pork ribs, sadly we didn't catch any lobsters that day but they are SO next for this treatment. Smoking food to cook it is a long process and although most websites recommend breaking open a 6 pack whilst you wait I thought I would have a forage round the garden for some flowers for the house – far more lady like.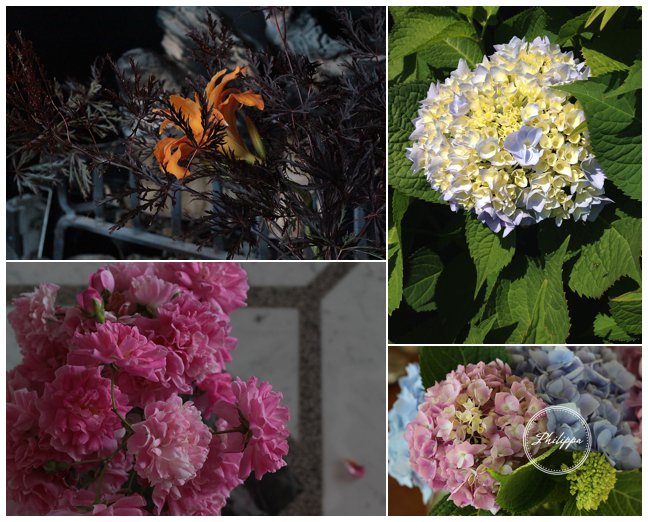 I am going to have a go at making my own smoker (regardless of the fact I don't really have anywhere to put it – yet)! The contraption I am playing with in Boston is a hot smoker which cooks and flavours the food, but back in the day when I was cooking at Mudchute London City Farm in the Docklands we built a cold smoker. These are used to flavour rather than cook food. The other chefs and I went overboard and experimented with everything. Some worked, some didn't. Here are some of my notes form the time:
 Butter… delicious
Strawberries…disgusting
Eggs…delicious
Milk…unusual
The point is however, as I keep telling client's children, 'you don't know until you try' (although strawberries probably was a stupid idea).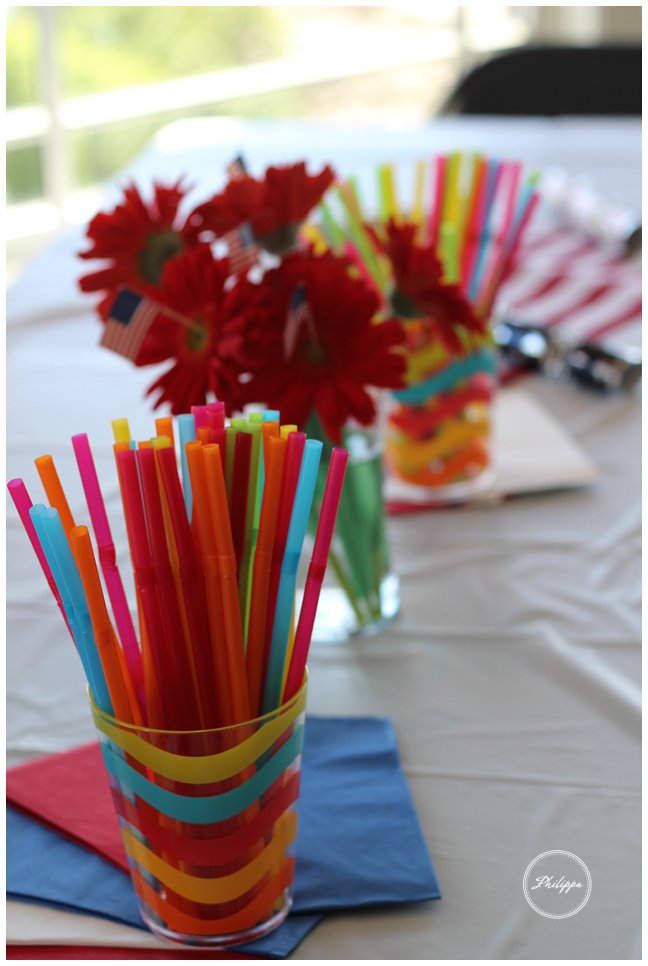 For this postcard recipe I will give you my spice rub, bbq sauce recipe and some tips on smoking meat.
Next adventure will hopefully be night fishing for striped bass ….
Spice Rub and BBQ sauce with tips on how to Smoke meat
Depending on what type, cut and size of meat you choose to smoke it can take up to 10 hours so plan ahead.
You will need;
Meat
Rub mix (recipe below)
BBQ sauce (recipe below)
A hot smoker
Charcoal for heat
Wood chips for smoke
A lot of patience
For any first timers;
A domestic hot smoker will be a container that can hold heat/ smoke and food. It will generally have;
A fire pit at the bottom that you use to heat the smoker and to throw the wood chips on to create lots of lovely smoke
A dish for water to help keep everything moist
1 or more racks to put the meat / food on
Vents to control the temperature
A thermometer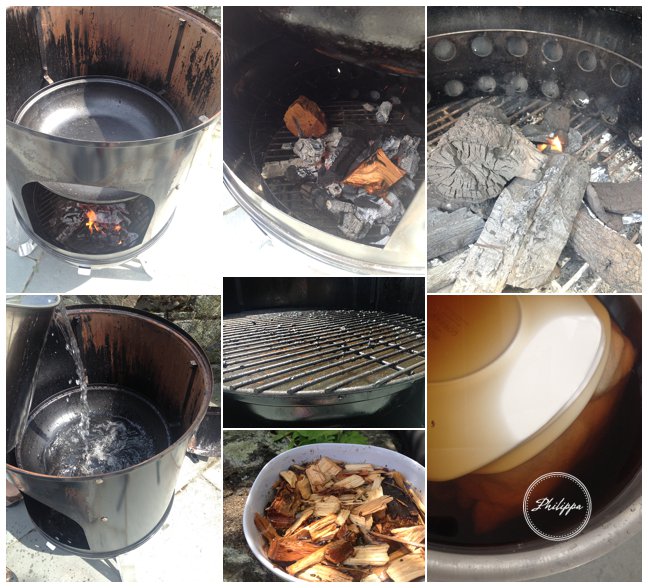 The Heat
We used charcoal for the heat.
I found the best temperature was keeping the smoker at 220 F/105 °C for the duration of smoking.
Adjust the vents as necessary to maintain the temperature – closing the vents to suffocate the fire to drop the temperature and vice versa to heat things up.
Check the temperature about every half hour and add more charcoal as necessary.
Wood chips
These get thrown on top of the coals to produce the tasty smoke, depending on their size and how quickly they burn throw on every ½ -1 hour at about a handful at a time.
We experimented with hickory, apple and cherry – all delicious and sadly my smoke palate is not trained enough yet to 'name that wood chip' but I am working on it. If foraging for your own wood chips use a hard wood like oak, beech or a fruit wood like cherry/apple. Do not use any conifers like pine/spruce/fir.
Also you obviously don't want to be putting on any wood that has been chemically treated.
I soaked my wood for 30 minutes each time before throwing it onto the fire but there is a big school of thought that this is a pointless activity.
Smoking the Meat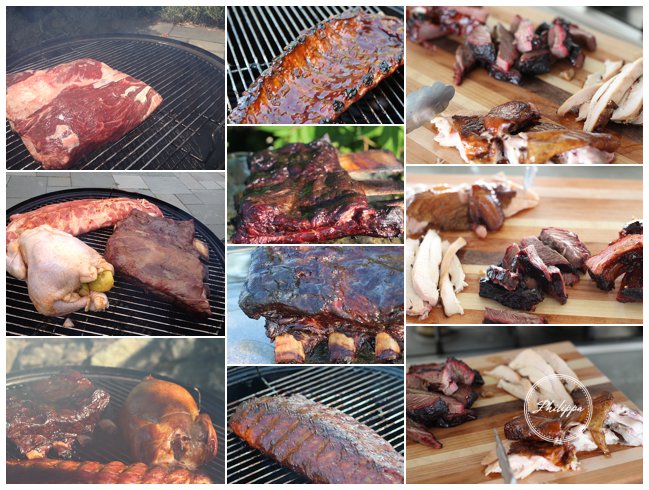 Pork ribs
These have a very thin membrane that needs to be pulled off (found on the bone side) otherwise the smoke does not penetrate as well and it's not great to eat. Slip a small sharp knife into the membrane at one end to help start with the peel.
At least 1 hour before smoking sprinkle then massage the rub onto the ribs, about 1 tbs each side of the ribs should be perfect.
Spice Rub
This is enough for 4 big racks of pork ribs
3 tbs fine sea salt
2 tbs dark brown sugar
2 tbs sweet smoked paprika
1 tsp mustard powder
1 tsp chili flakes
Mix everything in bowl and keep it in a jar for as and when it is needed.
BBQ sauce
This will make enough for 3 racks of ribs
100g streaky smoked bacon cut into small pieces
1 small white onion finely diced
2 peeled and finely chopped cloves of garlic
2 tbs olive oil
250ml ketchup
150 ml white wine or cider vinegar
200g soft brown sugar
50ml Worcestershire sauce
50ml whisky/ bourbon
3 tbs dark molasses
1 tsp salt
2 tsp smoked sweet paprika
1 tsp mustard powder
Fry the bacon, onion and garlic in a saucepan with the oil till sweet and translucent ( about 10 mins)
Add the rest of the ingredients, bring to a simmer and cook for 20 mins.
Cool then cover till ready to use
This will keep for 1 month in the fridge.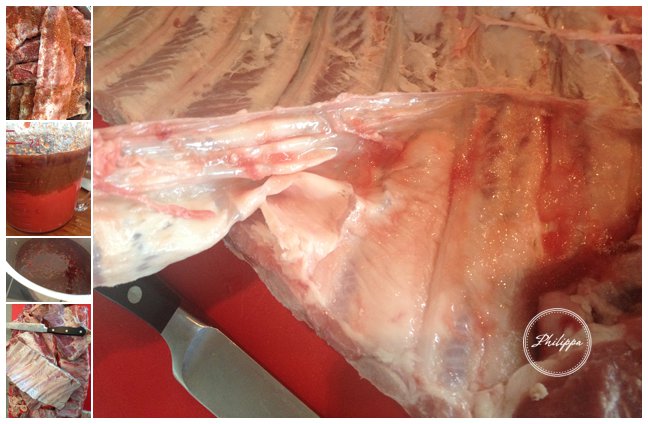 When you are ready to cook/smoke the ribs;
Heat the smoker to 220F (105 C) and place the ribs (pre rubbed with the spice mix) on the grill
Check the grill every ½ hour to see if the temperature is around 220F (105C)
There is no need to turn or move them.
Practice makes it easier to tell when the meat is done but you should be able to bend the meat and the smoky surface should crack.
Or you should just about be able to wiggle the bones.
It is NOT like cooking pork belly where you can easily remove the bones when it is done
It should take between 3 – 4 hours if cooking at 220F but it will vary.
When it is cooked brush it with bbq marinade and cook it for another 15 – 25 minutes.
Serve with piles of napkins.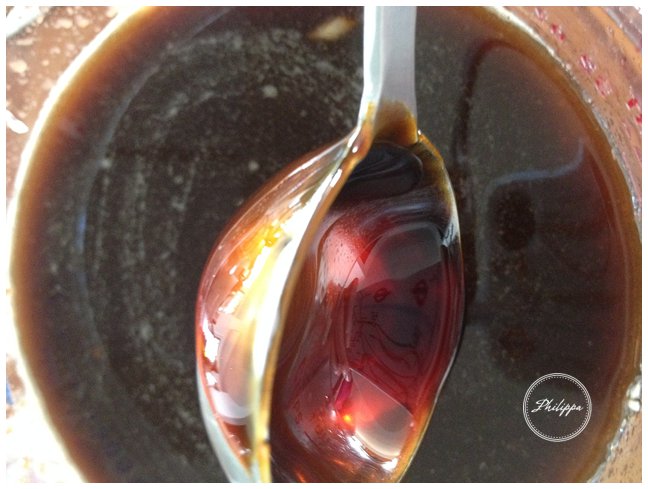 Beef Ribs
These don't need any membrane removed as it helps keep its shape. I just sprinkled mine with some fine sea salt as didn't want everything to taste the same.
Heat the smoker to 220 F/105°Cand lay the ribs on bone side down
Leave for 5 – 6 hours until cooked
You can pick a bit of the meat to see if it is cooked
Or if using a thermometer the middle of the meat should be about 190 F (88° C).
Whole Chicken
To keep the chicken succulent you need to soak it in brine.
Brine
Mix 5 liters of cold water with 250g light brown sugar and 250g fine sea salt.
Immerse the whole chicken for at least 3 hours and up to 10 (keep somewhere cool in the fridge).
When ready to smoke remove from the chicken from the brine, give it a quick wash and pat dry with some kitchen paper.
I rubbed mine with 1 tbs sweet paprika all over which helps to add a textbook smoked colour to the finished bird.
Stuff with a chopped apple or pear and some sprigs of herbs like parsley,sage and / or rosemary.
Heat the smoker to 220F/105 °CPut the chicken on and cook for between 2 – 3 hours or until cooked through. The meat will look pinker than a regular roast chicken but the juices should run clear when tested in between the leg and body.
Smoked chicken, beef ribs and baby back ribs washed down with a few Ipswich pale ales, now thats the end to a perfect day…