A roast by any other name…
As expected my latest job was a total fast, furious and fun weekend. Having flown across the Irish sea ( I will never be persuaded to travel on it) I headed down to county Carlow.  I was to cook for a mass clan gathering to celebrate their chiefs 70th birthday.   As soon as I entered the house I could tell this crowd was ready to party. Thoughtful touches of welcome packs for the guests sat waiting in each of the bedrooms, giant balloons floated around downstairs, bright banners had been strung up, big bunches of daffodils had been placed on every ledge, there were enough candles to light up the entire country and a bottle or two of wine sat ready waiting to be opened.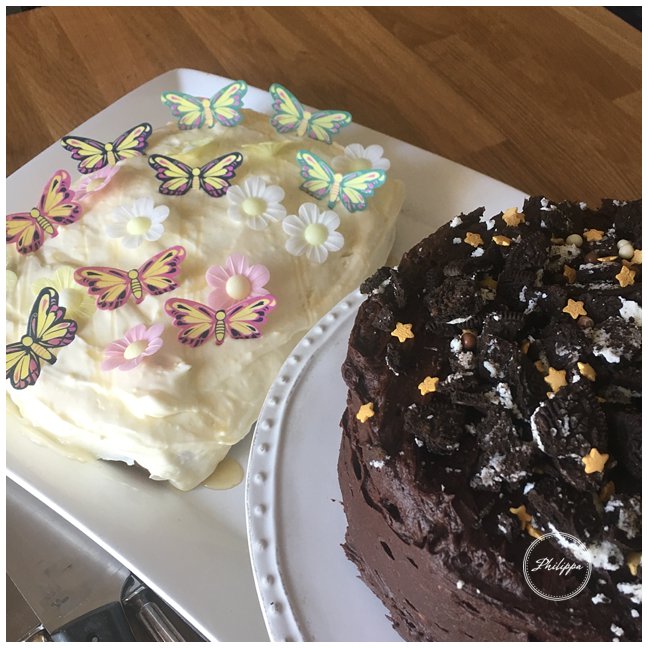 For preparing the menus I had been told that they were all a very foodie lot, would eat anything and were all very excited at having a chef! We decided to make the two nights very different by making one a more casual sharing platter feast and the other a formal 3 course meal plus canapés, cocktails and cheese. Having not cooked in this part of the country before I was not entirely sure what shops would be available but was told there was an excellent fishmonger and butcher. There is lots of produce I love from Ireland and that generally stands out as excellent.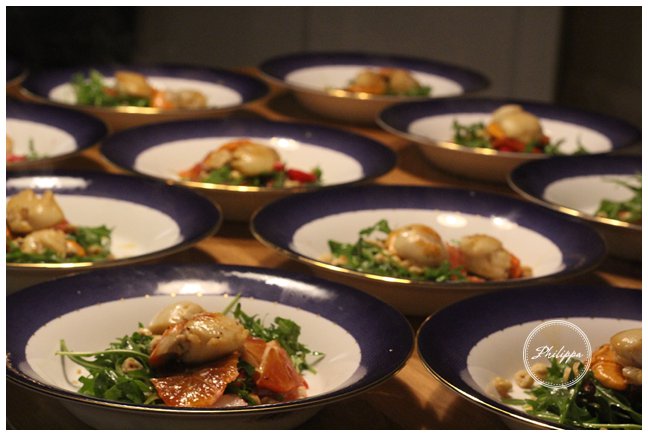 Delicious shellfish, smoked salmon (both which were part of the formal dinner), meats (especially beef), cheeses and dare I say it…( yes I do as otherwise what's the point of having your own blog…) potatoes. In the same way you enter a local shop in Provence and are offered a choice of 20 different tomatoes in Ireland you will be offered a great variety of truly delicious potatoes.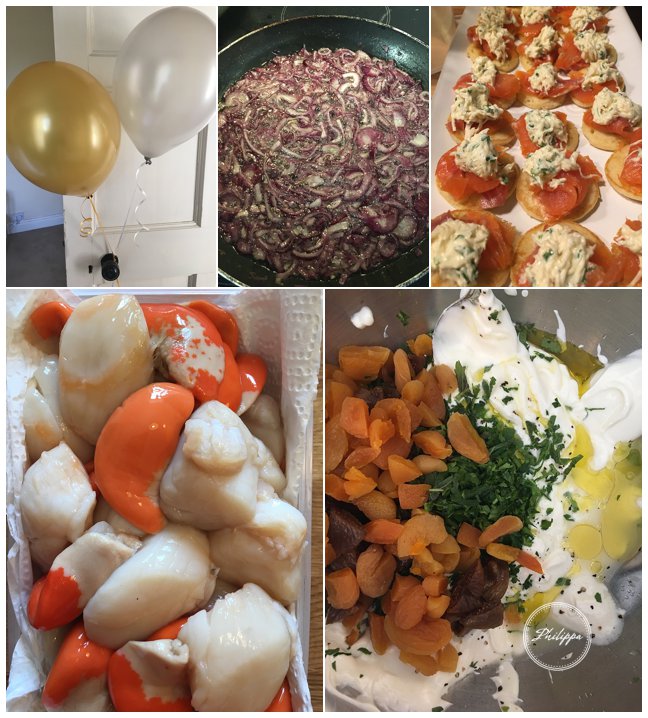 The first more casual meal on the Friday included  'revitada' a Greek inspired dish which I spied on olivetreelondon instagrams feed. You will note that I haven't dare call it outright revitada however as there seems a current trend to pounce on any chef who dares to deviate from authentic methods and ingredients in a dish (though unbelievably this is the same planet that lapped up kale chips ?!?!!).
Friday night menu read as follows ;
Canapés and cocktails
Moscow mules (though with rhubarb and mint so not really!) 
Honey sausages
Harrissa chicken balls
Smoked salmon and celeriac remoulade on blini
Anchovy bruschetta with labneh and lemon
Main
Kids
Mild chicken Curry
Middle Eastern feast
Five-hour Slow cooked chicken with chickpeas, herbs, garlic and white wine served with spicy red chilli sauce and a coriander, cumin sauce. 
Whole side of roast salmon with ras al hanout
Spinach, cheese and herb pastries
Honey and caraway breads
Parsnip, buttermilk , apricot, mint and date salad
Cous cous with toasted almonds, crispy onions, pistachios and pomegranates
Dessert
Lemon tart with crème fraiche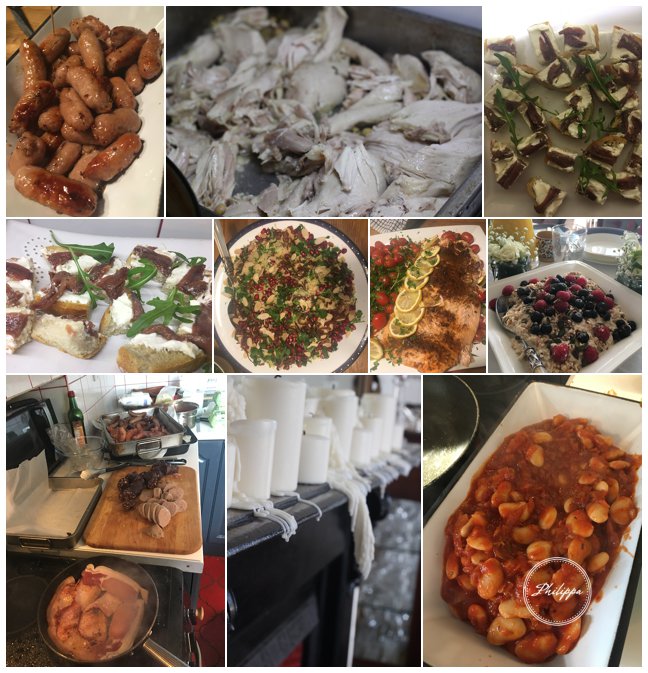 As I am sure you are aware recent chefs  / cooks being pounced on included Mary Berry for being so audacious as to put white wine and cream in her Bolognese and Jamie Oliver who nearly bought  back the Spanish inquisition when he popped some chorizo in his paella. I will happily declare my favourite paella to make is made with game stock and defiantly has chorizo in it . Also whilst in confessional I put peppers and sometimes even aubergines (yes aubergines) in my Bolognese as I find it's a great way to quietly slip more vegetables to kids and I love the additional layers of flavour and texture. So there! (Though probably best not tell you how I make carbonara).
For individual ingredients I am totally pro them having their authenticity stamps along with rules and regulations to keep standards high but for recipes why not give a bit more slack?  Over the years I am sure they have been tweaked and changed and I hate the idea of screaming at anyone who is trying to encourage and inspire people to cook from scratch in their own home.  Purists can cook it their way and the rest of us should embrace being a little more relaxed, creative and fun loving in the kitchen.
So for this postcard recipe I give you a kind of revithada with chicken and spicy sauces. So yes technically not revithada which is chickpeas, onions and bay cooked for hours then finished with a squeeze of lemon, it is very much inspired by it and for that Greece I truly thank you.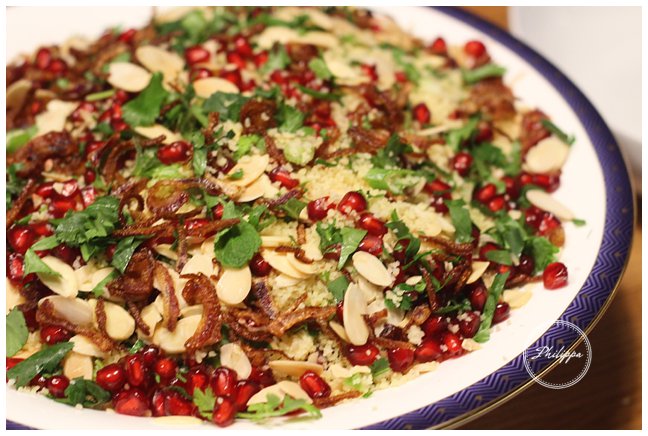 This week
It was : party, party , party.
I cooked : with 83 eggs
I love : daffodils
I'm driving a :Toyota
Im judging at : the taste awards with guild of fine food and the academy of chocolate awards
Instagram : Postcards from a private chef 
Kind of revithada with chicken 
Feeds 10 – 12
500g dried chickpeas
1 tsp bicarbonate of soda.
4 white onions peeled and finely sliced
16 cloves of garlic , peeled
8 bay leaves
½ bottle white wine
2 sprigs rosemary
4 sprigs of thyme
100ml extra virgin olive oil
2 whole organic chickens
1 – 2 lemons
2 tbs finely chopped parsley .
Sauces
Green
20g fresh Coriander
2 tsp dried cumin
2 tsp dried coriander
½ lemon juice only.
3 tbs Extra virgin olive oil.
Finely chop the coriander
Red
4 red chillies , deseeded if heat needs reducing and finely chopped
1 tsp ground cumin
2 smashed garlic cloves garlic
splash of sherry vinegar
Extra virgin olive oil
Chicken and chickpeas
Soak the chickpeas in plenty of cold water over night with 1 tsp of bicarbonate of soda (the bicarb  increases the pH which helps decrease cooking times, it also helps to break down gas causing sugars).  
Drain and rinse the chickpeas well then place in a large lidded cooking pot (or split between two if needed) .
Add cold water to top the chickpeas by 5 cm and stir in the onions, garlic, bay, thyme and wine.
Place the chickens on top, season them with salt and pepper.
Pour over the olive oil.
Place a cartouche and tight lid on the pot and cook for 5 hours by which time the chicken should be amazingly tender and the chickpeas soft. Check halfway through that it doesn't need a splash more water. 
Once the chickpeas are soft leave to cool slightly then carefully remove the chicken.
Season the chickpeas ( they need quite a lot of salt) and stir in the juice from 1 –  2 lemons ( add one first and taste to see if it needs more lift) .
Gently take the chicken from the bones in as large a chinks as possible (discarding the bones and skin) then place back the chicken back in the chickpeas.
Sprinkle on a handful of chopped parsley. 

To make the sauces
Green
finely chop the coriander and stir in the spices some salt and pepper the olive oil and finally the lemon juice.
Red
Stir the cumin, garlic, chilli and vinegar together, season with salt and pepper then stir in the olive oil.
Serve the chicken and chickpeas warm with sauces on the side, people can spoon them onto their plates and lightly stir them in. Great served with bread and greens. 
At this time of year cooked asparagus, wild garlic and fresh broad beans would make a great addition at the end too ( but will also make it that one step further away from true revithada).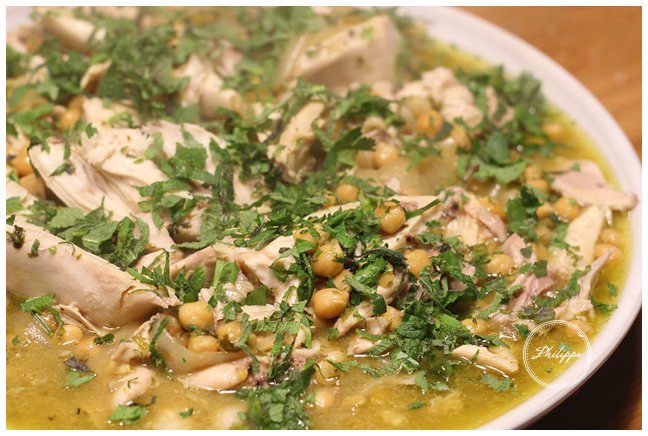 Next stop … Les Gers