A different kettle of bird..
The beautiful birds strutted their stuff across the wild Scottish landscape, unflappable  despite the fact they were being furiously shot at.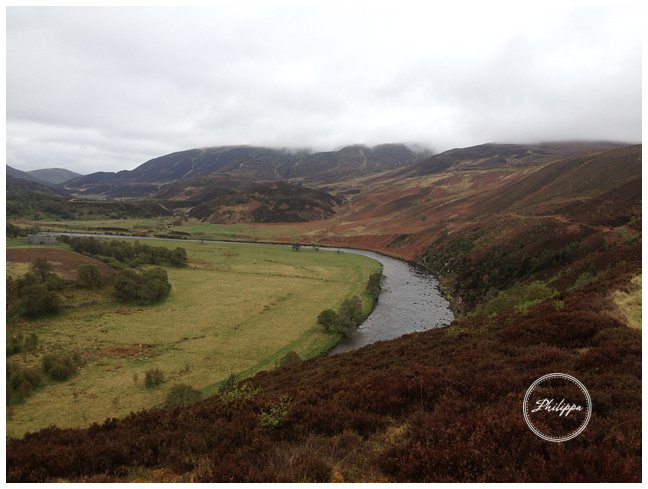 No, I was not cooking for some illegal out of season gun gathering but rather for a couple of fashion shoots with the rugged rocks, rusty heather and babbling burns as the back drops.  Most of the crew had travelled up from the big smoke and I think slightly taken aback by the sheer amount of fresh air we have up here.  They say an abundant presence of lichen and moss indicates excellent  air quality. This seemed to be the place to get ones air 'fix'…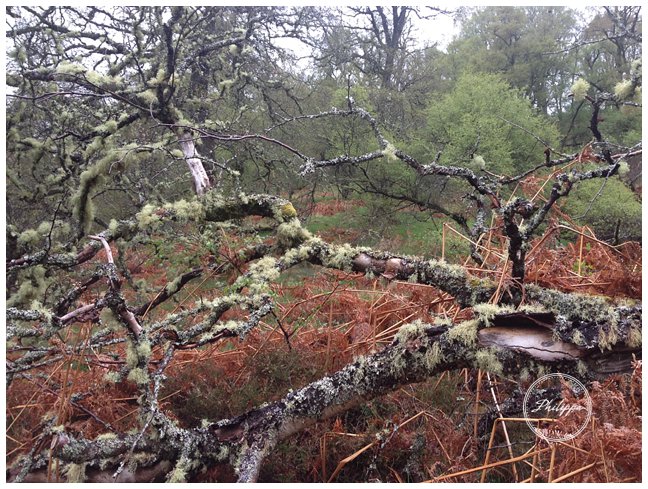 I love watching different industries at work, it fascinates me the high and lows of other peoples jobs and how they react when the pressure is on (having spent years in London kitchens I am no stranger to shouty professionals).  I have to say after watching these production crews hard at it, they had military like efficiency yet with great charm they got the job done. From my kitchen window I could see the tops of their heads pass by. As the long day progressed and as the hours of useable light diminished, the efficient walk used in the morning began to pick up speed. Getting this and that prop and or bringing out the next piece of perfectly pressed garment, they were practically sprinting past when 5 o clock came, yet never once raised there voices or became any less than perfectly polite.  Perhaps the fashion industry and the military could do a group project and world peace would ensue….or at least we would all be better dressed.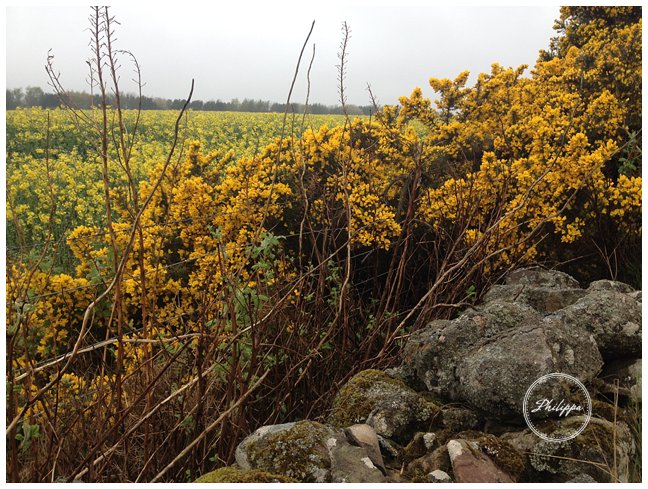 Planning a menu for these sorts of jobs can be tricky. Firstly there is the dynamics. There could be lots of figure conscientious types, happy to push salad leaves around a plate or there might be lots of people lugging stuff about working up a big appetite.  The other element is timing. This is one of the few occasions that I cook for where the food, although still obviously has to be delicious, it is not the central part of the day ( I know can you believe it)?!. The team might be making the most of a sudden change in the weather  – it can happen a lot in Scotland, or perhaps they suddenly need to break early so they can go off and get a long afternoon stint done.  The chosen food has to be able to sit there for at least a couple of hours with out loosing any of its razzale dazzle.
Here was one of the days menus
Breakfast from 7 am
Fresh Fruit salad with home made yogurt and granola 
Bircher Muesli
Crispy bacon, american banana and blueberry pancakes , maple syrup 
Scrambled and poached eggs to order
Cereals, toast, jams, marmalades
Lunch x 30
Pulled pork – shoulder of pork slow cooked with apple, white wine and fennel then shredded and served warm
with
Broccoli, sesame seed, coriander and spring onion salad with soy and ginger
and
Tabbouleh salad with roasted courgettes, peppers, sweet onion, parsley and tahini dressing
Soft buns
Dessert
Pressed Chocolate and hazelnut cake with mascarpone and raspberries ( gluten free)
Fruit platter
Afternoon Tea 
Scones with clotted cream and jam
Gluten free scones
Gluten free chocolate fridge cake
Dinner
Thai green chicken curry
Slow cooked Beef curry
Spiced Chickpea and cauliflower curry 
Saffron rice
Poppadoms, raitia and chutney
cucumber and carrot salad with lemon dressing
Dessert
Salted caramel ice cream 
and
Rhubarb, meringues and mascarpone with cream, vanilla and orange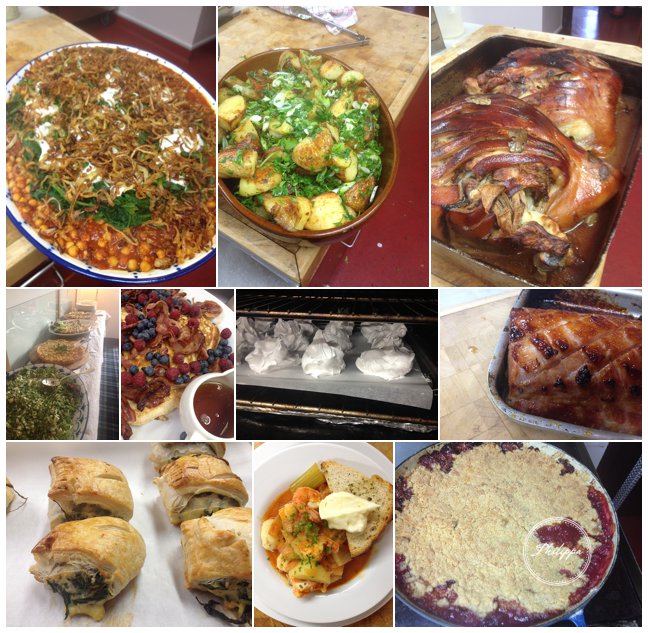 Another part of the days menu was to provide lots of snacks through out the day so as well as the mandatory fruit baskets there had to be cookies, shortbreads, rocky roads etc. There also had to be some gluten free  treats as 1 person in a group of 30 was intolerant,  What surprised me that within 4 hours of their arrival not only had 23 giant chocolate chip cookies been scoffed but it was the gluten/ wheat free choices that had been delved into rather than the normal version.  With that noted I  started making most of the treats all with wheat / gluten free flour.  They surprisingly mostly came out really well and I don't know if I would have been able to tell which was which. Apart from my scones which came out as flat as the Somerset levels and if there was any photographic evidence I would be banned from joining the Women's Institute  for life.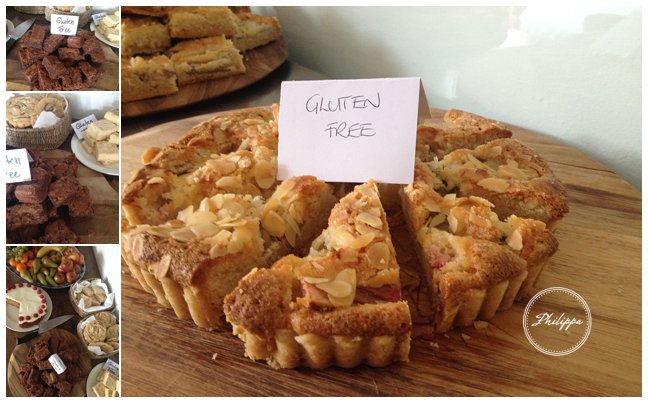 In the end we opted for lots of salads on the menus to accompany any mains so there was ample choice for people who wanted to eat really healthily .
For this postcard recipe, I will share with you some of the dressings used on the salads and with the promise of warm weather creeping up on us it could not be better timing. Its great to have a few different bottles made up so they come easy to hand and make every salad a taste sensation.
The week, having flown by, is now over and my bags are packed, next job is a dinner party in Edinburgh…
Recipe | Never out of fashion Dressings
I would never serve a salad naked ( unless strictly instructed by a client)  as not only does the oil help us absorb more vitamins from the vegetables but the dressing really does bring the salad to a whole new level.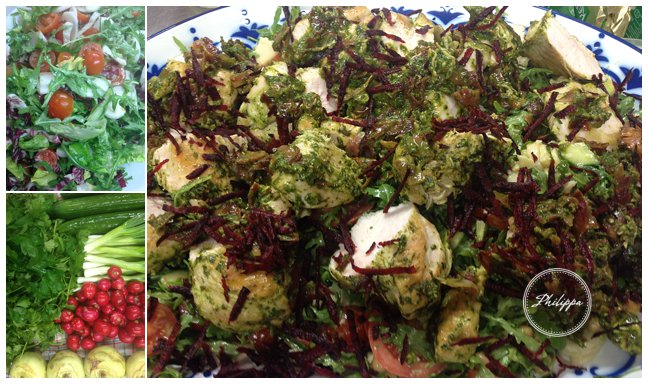 Maybe have about 3 on the go and try and use them within a couple of weeks as they will loose their sparkle.  Scale the quantities up or down depending on the amount of salad-fests and visitors you plan to have.  Good olive oil and vinegars are so important and generally salads are so simple they rely heavily on quality.
Dressings are generally best made in a big bowl, always start with throwing in the salt first then pouring in the acid (lemon juice/ vinegar etc ) as this dissolves the crystals.
Lemon dressing
Salt /pepper to season
2 lemons
6 tbs olive oil
Throw some seasoning in a bowl, whisk in the lemon juice then olive oil. Store for up to 2 weeks in the fridge.  Bring it out an hour before use and shake before pouring.
Not really a recipe I know, but surprisingly delicious on leaves and raw vegetables like fennel, radishes, blanched asparagus and also really great with salads that have lots of herbs.
For a more middle eastern twist add a tsp of sumac (a dried red berry that has a citrus flavour) or a tsp za'atr ( sesame seeds with dried oregano/ thyme/savory).
Soy, ginger, lime and honey
2 tbs dark soy
juice of 1 lime
1 tbs honey
2 tsp finely grated or finely chopped ginger
4 tbs sesame oil
You Dont really need salt for this dressing as the soy is salty. Whisk everything in a bowl adding the sesame oil last.
This dressing is fantastic with salads containing spring onions, grilled broccoli with toasted almonds or  a cold glass noodle one with peanuts and coriander.
Dijon, honey and apple
I make this dressing more than any of the others, particularly great with avocado, bacon and goats cheese salads. When I come to the end of the dijon mustard jar I usually make the dressing straight in the pot and just shake it.
Salt and pepper to season
2 tbs white wine vinegar or cider vinegar
1 tbs runny honey
2 tbs dijon mustard
3 tbs apple juice
6 tbs olive oil
Whisk everything in a bowl adding the olive oil last.
Tahini
Order is everything with this dressing or you will just get a lumpy split mess
salt and pepper to season.
1 tbs Tahini
1 tbs lemon juice
4 tbs water
1 tbs olive oil
Add the ingredients in order shown, whisking all the time.
This is dressing is of middle eastern influence and is delicious with chopped salads and green salads and also makes a great sauce for fish and chicken.  I have had it served as a dip with warm grilled flat bread which was amazing ( for this it is served thicker so reduce the amount of water added to 1 or 2 tbs)
Balsamic
This dressing more than all the others is about quality.  There are a lot of cheap frauds out there calling themselves balsamic vinegar but they are nothing like the real McCoy.  Proper, good balsamic is expensive as it is a long and wasteful process (lots of evaporating). Read the ingredients list, it should always start with 'grape must' and will  be a minimum of 12 years old.  Splash out on a bottle of the good stuff and use sparingly, it is truly worth it.
I generally use a good (ish) balsamic for salad dressings then sprinkle a few drops of the really great stuff on top  of the dressed salad-  you don't need much.
salt/pepper to season
1 tbs balsmic vingar
2 tbs oilve oil
Whisk all together.
With its Italian roots this dressing goes perfectly with salads that include cheese like mozzarella, pecorino and parmesan,  it is great tossed through mixed grilled vegetables or served with  bitter leaves like chicory and radicchio (the sweetness contrasts with the bitterness  of the lettuce so well ) and served with salty parma ham .

Sherry Vinegar and sweet paprika
If making a spanish slanted meal use this dressing, its great tossed through a warm bean or chickpea salad with sausage and parsley or with a salt cod and tomato salad.  It can of course be used with green salads and cured salty meats like serrano ham as well, and makes a nice change form always having a balsamic dressing.
salt and pepper
1 tbs sherry vinegar
2 tbs olive oil
1 tsp sweet smoked paprika
Whisk all the above ingredients together.