Getting your ducks (and goats, sheep, pigs and alpacas) all in a row
Well here we all are the other side of Easter. I hope disrespectable amounts of chocolate were eaten and you are now thoroughly gorging on anything you gave up for lent.   I had a great week cooking for a lovely family west of Toulouse in the Midi-Pyrénées .  Besides the party of amorous frogs (the amphibian kind) outside my bedroom croaking their love songs all night it was a very tranquil setting.  Surrounded by lush green undulating fields and a landscape spattered with huge  farmhouses, you really felt you were in deep rural France.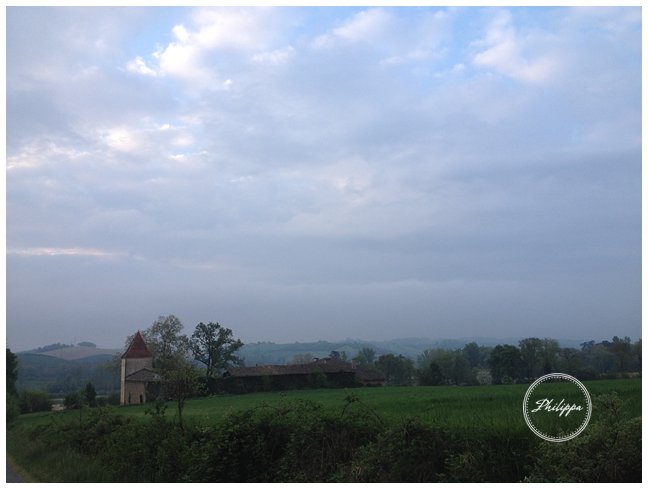 As rural as we may have been there was of course a local boulangerie and weekly market.  The nearby Monday one in Samatan was very traditional. As well as the butcher vans, vegetable stalls of which asparagus and artichokes were clearly in season, massive lumps of nougat for sale and barrels full of olives, there was also a huge shed filled with live animals for sale.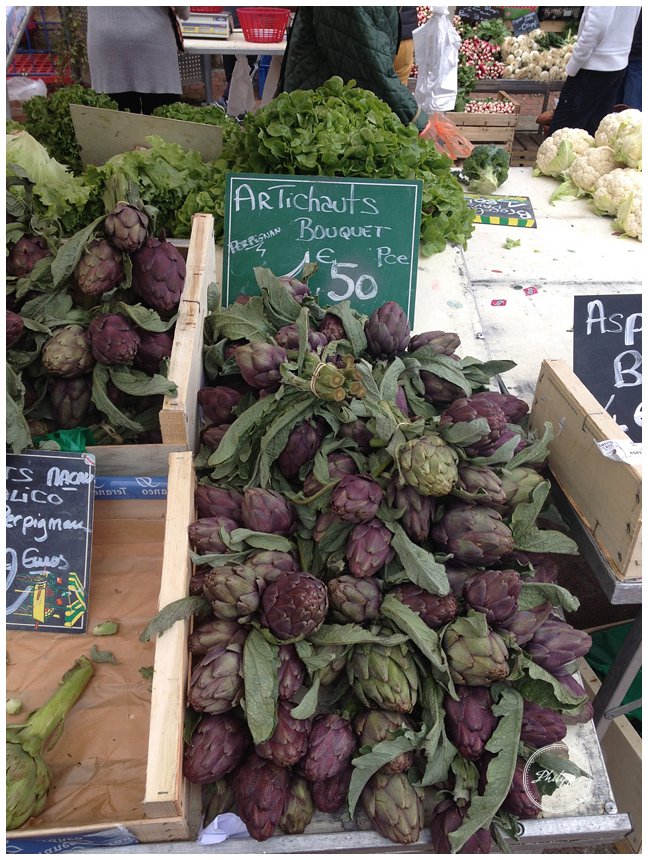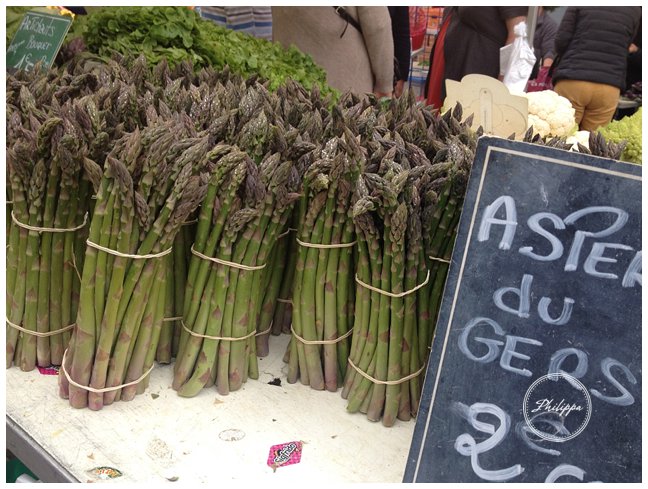 It turns out the family I was cooking for found it nigh on impossible to visit without buying some new livestock to add to their already delightfully eclectic menagerie, of which I was strictly forbidden to incorporate into any of the weeks menus.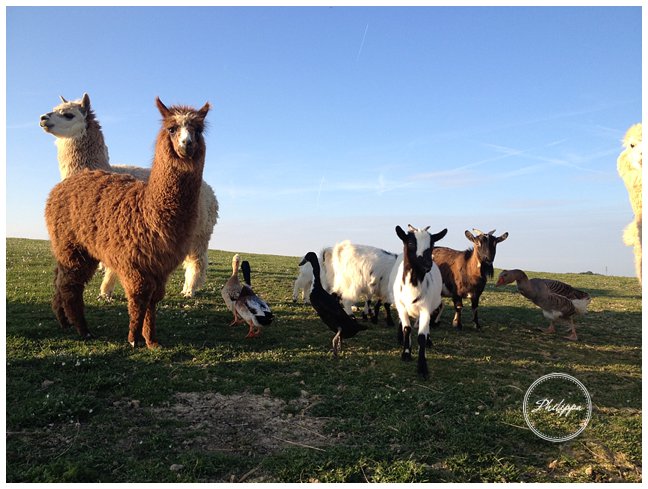 I was however encouraged to use one of the major specialities of this area – duck.  Every other crossroad seemed to have a casual hand painted sign for foie gras with rustic shops in the farm yard selling their home made patés, terrines, sausages, fresh and mi cuit foie gras lobes as well as their delicious duck meat. I was particularly keen to get hold of some Magret Duck breasts, which is the meat from the corn fed birds that produce the foie gras. Magret duck breasts are extremely tender and tasty and so it was no wonder we decided to serve this as our Easter feast.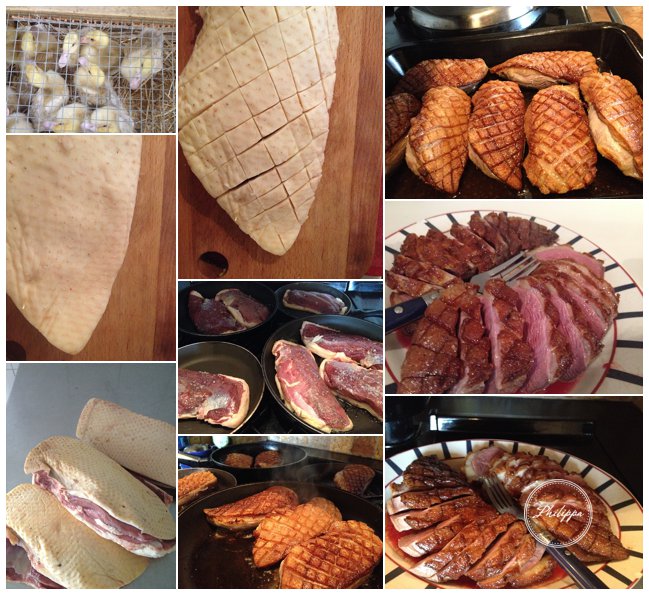 The Sunday Lunch menu went as follows:
Blanched White asparagus with hollandaise
Seared Foie Gras on brioche with stewed rhubarb and apple
Pan fried Magret duck breasts
Orange and fennel salad with hazelnuts and lime
White bean salad with tomato, pork sausage and parsley
Whole globe artichokes with French vinaigrette
Dessert
Rhubarb mille feuille
 For this postcard I wanted to share the method for cooking the duck breasts to get that perfect crispy skin and juicy tender pink meat with tasty salads to accompany it that pay homage to the local dish of cassoulet and the classic Duck a l'Orange.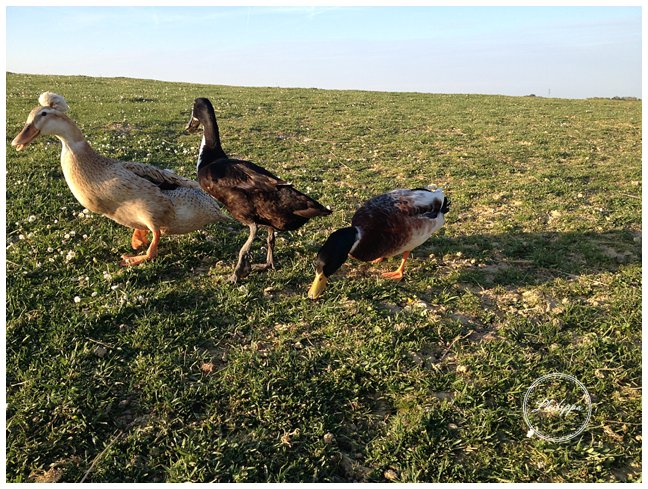 This week in numbers:
6.28 kilos of French cheese
56 spears of asparagus
0 pets from the field eaten
Job done and au revoirs said, I am heading off next to cater for a fashion shoot in the UK, where I ashamedly would be happily paid in luxury goodies….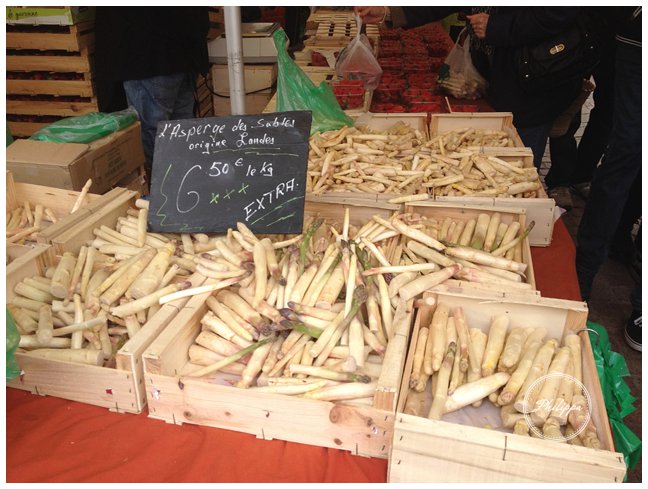 Pan fried Magret duck breasts
serves 6
Magret duck breasts are larger than most other ducks so 1 breast should serve 2 people as a main course.
3 duck breasts
salt/ pepper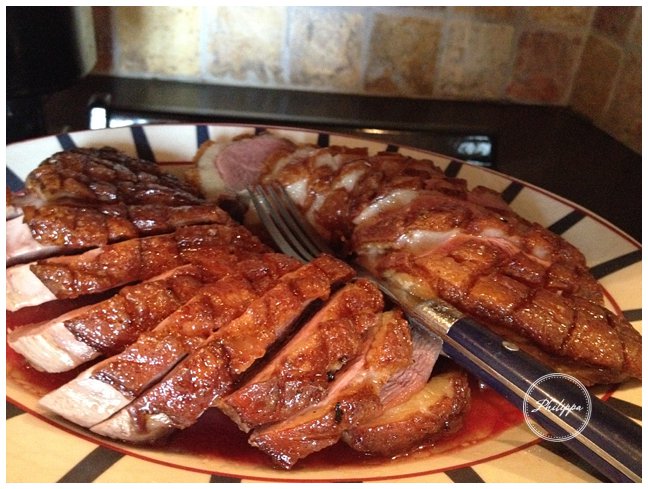 To cook the duck breasts score the skin being careful not to cut as far down as the meat and season with salt.
Lay skin side down in a cold frying pan ( with NO oil or fat) and turn on the heat to medium.
Leave to cook there until the skin goes crispy and brown (about 10 – 15 minutes).
A lot of fat will be rendered off the breasts which you should keep pouring into a pan and keep for future use (roast potatoes or fried bread?…)
Once the skin is crispy turn flesh side down and fry for another 5  – 8 minutes. Take off the heat, season with pepper and loosely cover in foil to rest for another 5  – 8 minutes.
Slice at an angle and serve warm.
Fennel and Orange salad with toasted hazelnuts
2 fennel finely sliced
2 oranges peeled and finely sliced
3 tbs roughly chopped toasted hazelnuts
Dressing
1 lime
1 tbs olive oil
1 tbs roughly chopped mint
It is important when using nuts to think about what kind of flavour and texture you want them to give the dish. For this salad you want to toast the hazelnuts to give a fuller and crunchier flavour.
To make the dressing zest and juice the lime, season with salt and pepper then whisk in the oil and chopped mint.
To make the salad:
Mix the sliced fennel, oranges and chopped nuts together and toss through the dressing.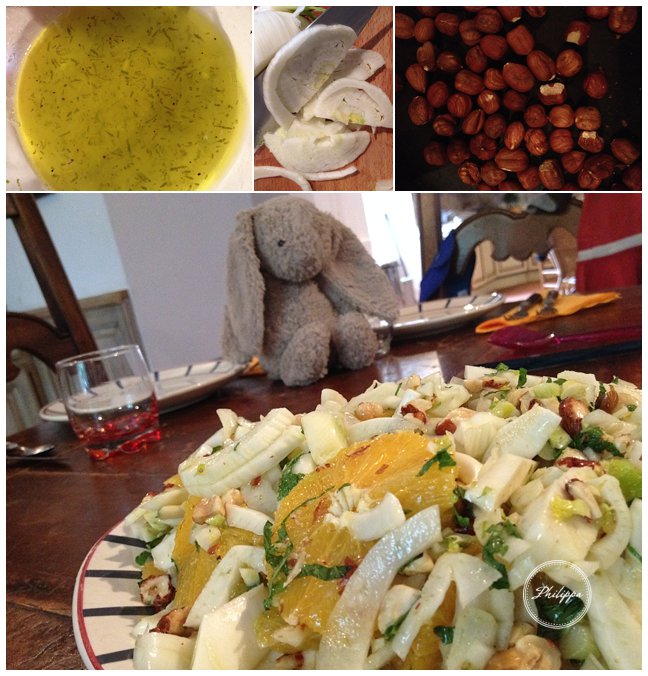 White bean, tomato, sausage and parsley salad
I heartily recommend starting this salad from scratch and using dried beans, although I confess I have occasionally had to use last minute emergency beans from a jar which still made a very tasty end product.
250g dried beans, soaked over night in cold water with 1 tsp of bicarbonate of soda.
2 large ripe tomatoes – blanched in boiling water for about 10 secs then peeled and roughly chopped
2 tbs chopped parsley
2 tsp red wine vinegar
3 tbs olive oil
300g good pork or duck sausages cooked and cut into rounds
100g raw sausage cooked into rounds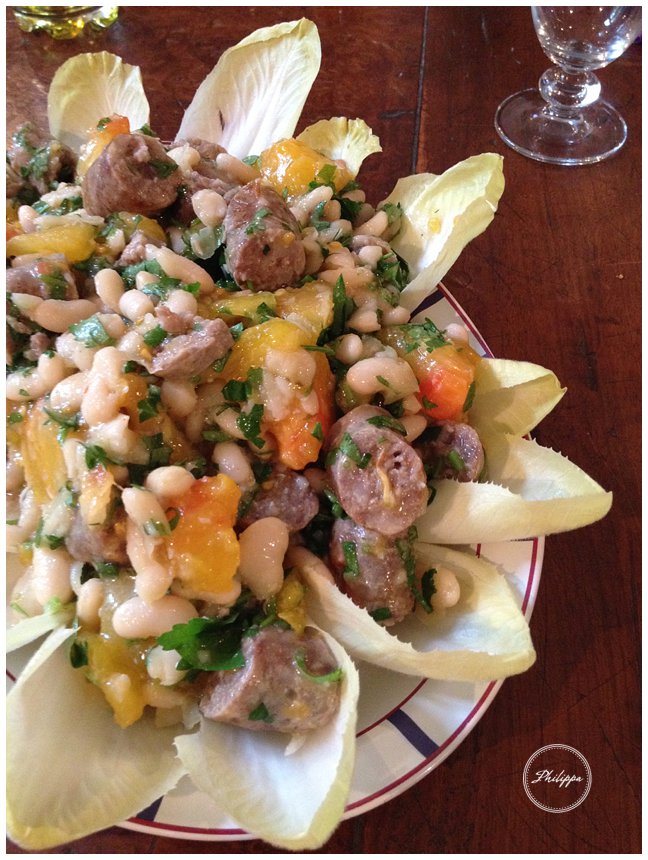 To cook the beans pour away the soaking water and wash well in a colander.
Tip the beans into a saucepan and cover with above with about 5 cm of cold water
Add the 100g of chopped raw sausage, ground black pepper and some parsley stalks.
Bring to the boil and simmer until cooked – this could take from 1 – 2 hours.
Once cooked if there is lots of cooking liquid pour away some until the level is just below the beans then while still warm season with salt, the olive oil and chopped parsley.
Leave for at least half an hour to let the beans soak up the flavours.
To serve
Add the rest of the cooked sausages and the tomatoes and mix well, check for seasoning then serve.