The charms of Chichester..
"There is nothing half so much worth doing as simply messing about in boats……." so Ratty exclaimed to Mole in Wind in the Willows. I am not sure I entirely agree. It is only in recent years that I have been able to overcome my easily triggered sea sickness. I remember once feeling quite queasy at the London Boat show. However, witnessing the bustling river banks near Chichester harbor while on my recent job I felt I could have almost agreed.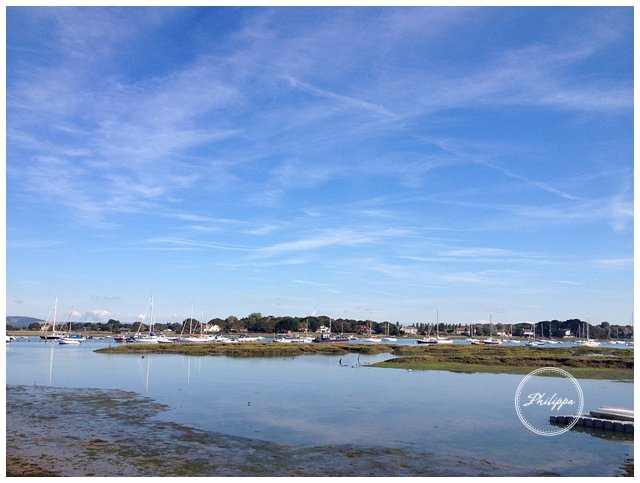 I was  there mainly to cook for a post shoot dinner party, pheasant and partridge being the targets. A decent 386 birds were shot, apparently a similar number to the grammatical errors on my last postcard….
As there was an evening that didn't need catering for I was asked to cook meals and puddings to stock the freezer.  I made a few stews, curries, slow cooked lamb shanks and,  much to the relief of the hostess, dealt with a load of the birds by making a big game pie. Without the pressure of evening dinner it also allowed a little more time for food shopping and expeditions to the local independent stores scattered in and amongst the surrounding villages.  Local shopping was even taken as far as the wine by using the nearby Nyetimber vineyard.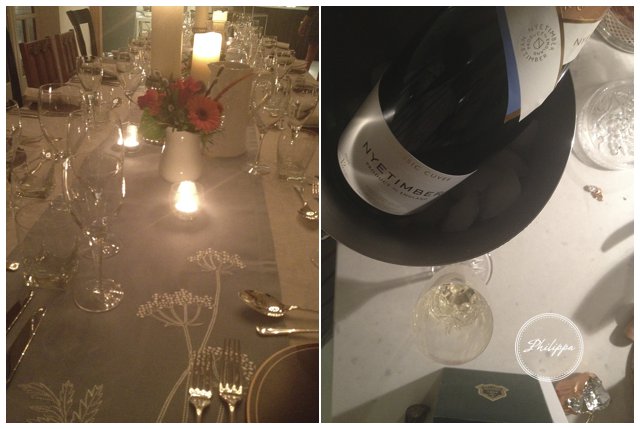 Nyetimber  produces an extremely fine sparkling wine that makes even Champagne doubt its superiority. The hosts and I  agreed that besides making an excellent aperitif the wine would pair perfectly with the starter for the dinner party.  The menu read as follows;
Canapés 
Beetroot and artichoke dip with celery
Potted local smoked trout and crisp bread
Quails eggs with home made celery salt
Grilled oysters with gruyere and lemon
British Charcuterie 
Starter
Poached Langoustines with fennel, apple and pea shoot salad, aioli and lemon
Main
Wiltshire Roe deer fillet with goose fat roast potatoes, parsnip chips, wild mushrooms and braised cavolo nero.
Desert
Pressed chocolate cake with blackberry semifreddo
Cheese
Brie de Meaux, Keens cheddar, Goodwood goats cheese, Colston Basset stilton with strawberry grapes, dried figs and oat cakes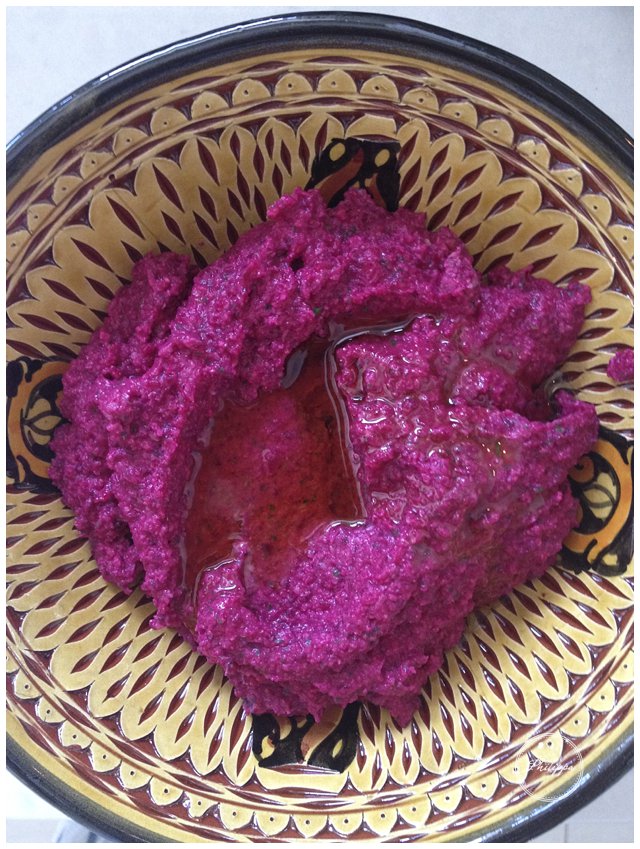 Beetroot and Artichoke dip
This postcard recipe is the light but delicious starter of poached langoustines whose sweet taste marries so well with the citrus and bready flavors of the amazing English Nytimber sparkling wine.
http://nyetimber.com/fancy-a-glass/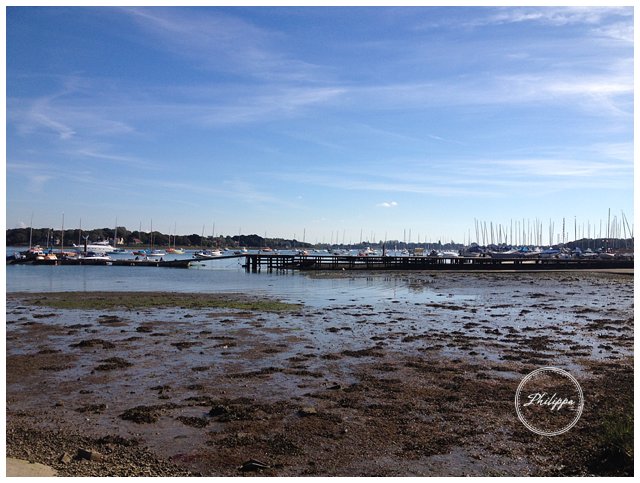 Poached Langoustines with apple, fennel and pea shoot salad, aioli and lemon.
Langoustines, also called Dublin bay prawns and Norwegian lobster spend most of their time in muddy burrows under salt water.  Scotland provides around a third of the world's supply.  Buy them live, and preferably caught in creels ( wicker baskets) rather than by trawlers which have horrific impact on other marine life.  Your local fishmonger should be able to provide you with their origin and capture methods.
The langoustines can be poached in the morning and left in the fridge till ready to serve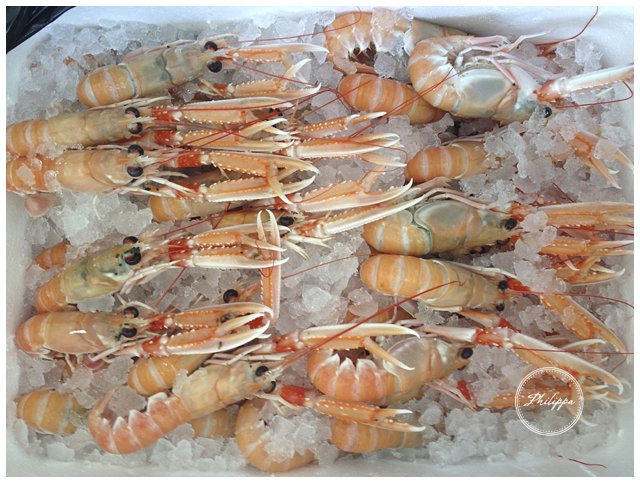 Serves 4 as a starter
16 medium sized langoustines
Court bouillon flavorings to include: small bunch of parsley stalks, 2 tspn fennel seeds, 1 tsp black peppercorns, 1 peeled clove of garlic, 1 glass of dry white wine.
(Court bouillon is the boiling water used for poaching the langoustine)
Salad
1 fennel bulb
4 red radish
2 small crunchy apples
150 g pea shoots
juice of 1/2  lemon
2 tbs olive oil
1 lemon cut in quarters
Aioli
2 free range egg yolks
1/2 small garlic glove crushed with 1/2 teaspoon of salt
juice of 1/2 lemon
1 tsp white wine vinegar
250 ml olive oil
Poaching Langoustines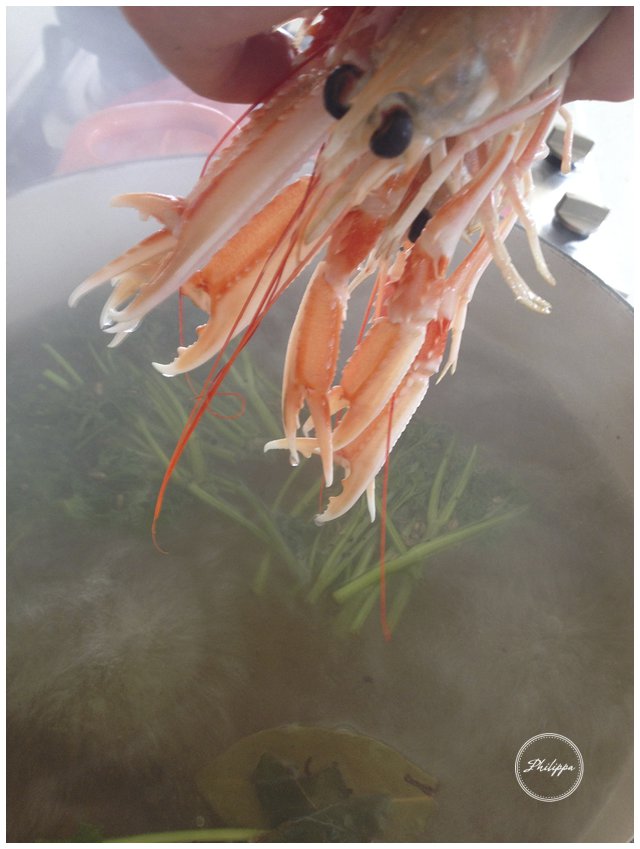 1)In a large pan bring the court bouillon to a rapid boil. Add lots of salt, as a rather scary head chef once told me it should taste like tears).
2)Poach the langoustines a few at a time for 2 minutes from the moment they go in. (Depending on size they may take a little longer  – ask your fish monger for advice).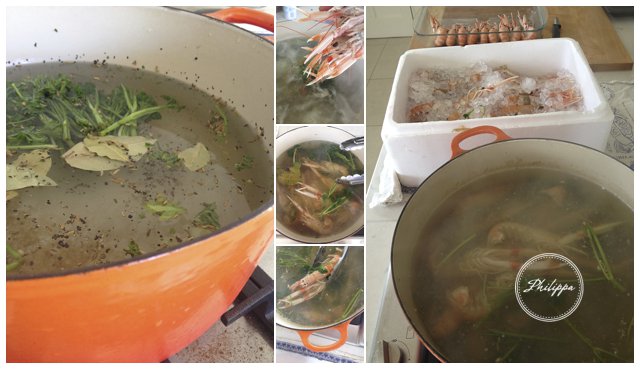 2)Once cooked lay them flat on a tray.
3)Leave to cool then cover and pop them in the fridge till ready to serve.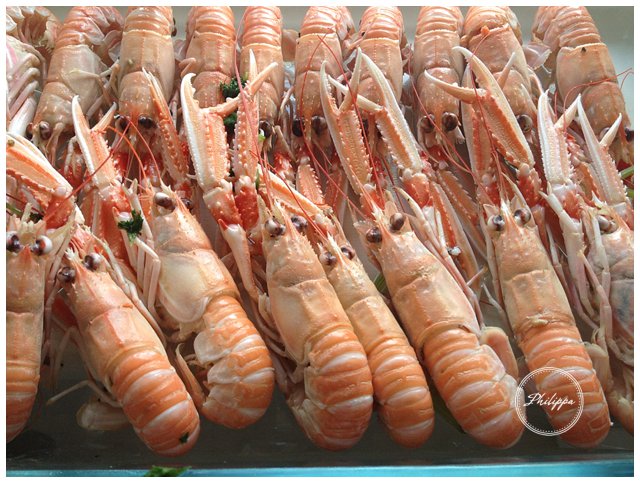 Aioli
It is frustrating to be told something is easy when you have difficulties with it.  I know many people fear making mayonnaise/ aioli as it splits on them.  My biggest piece of advice is get the beginning stage right and there should be no problems.
Whisk by hand/ machine or blend in a food processor the egg yolks, lemon juice, vinegar and crushed garlic.
Keep mixing ( at least 4 minutes)
Only at the stage where the mix has lightened in color and become a thick emulsion can you start to slowly (ish) trickle in the olive oil.
Once all the olive has been added check the seasoning then cover and store in fridge till ready to use.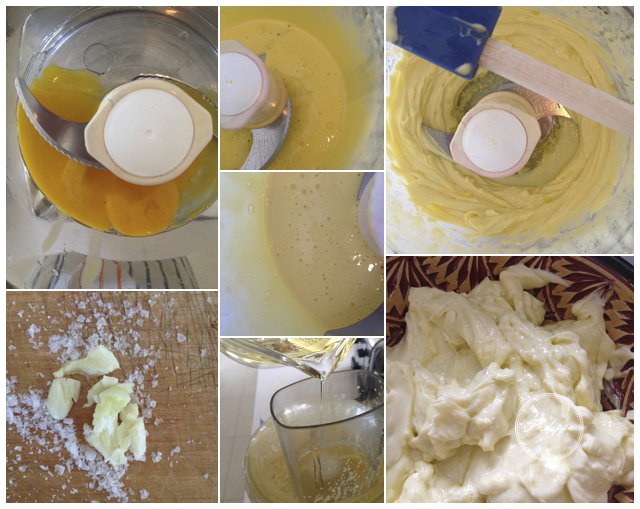 Salad
This can only be made just before serving.
Slice thinly the fennel, apple and radish and toss in the lemon juice and olive oil.
Mix through the pea shoots.

To assemble
Lay the langoustines on a plate with the salad, aioli, wedge of lemon and serve with a chilled glass of dry sparkling wine or Champagne.  Don't forget finger bowls on the table as sucking all the meat out of the claws can prove messy ….but worth it.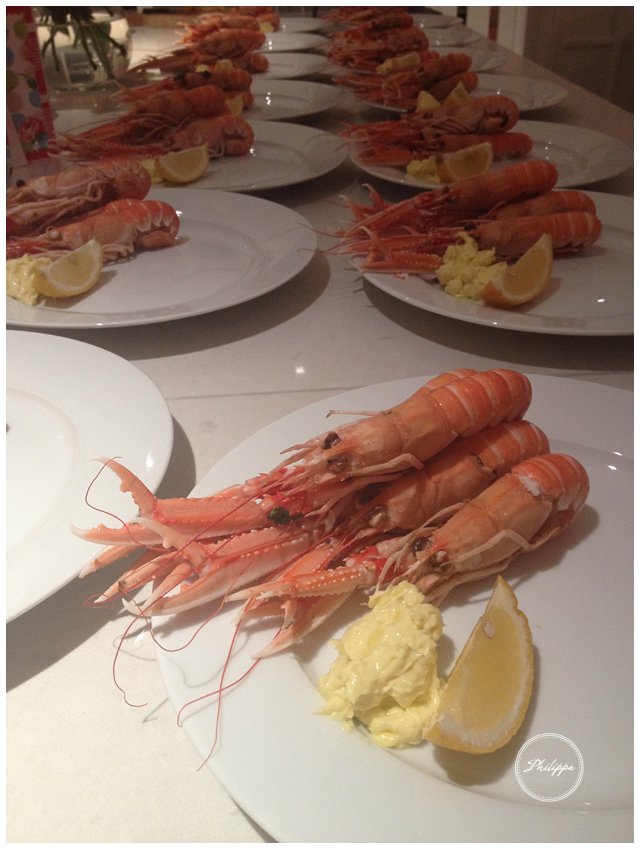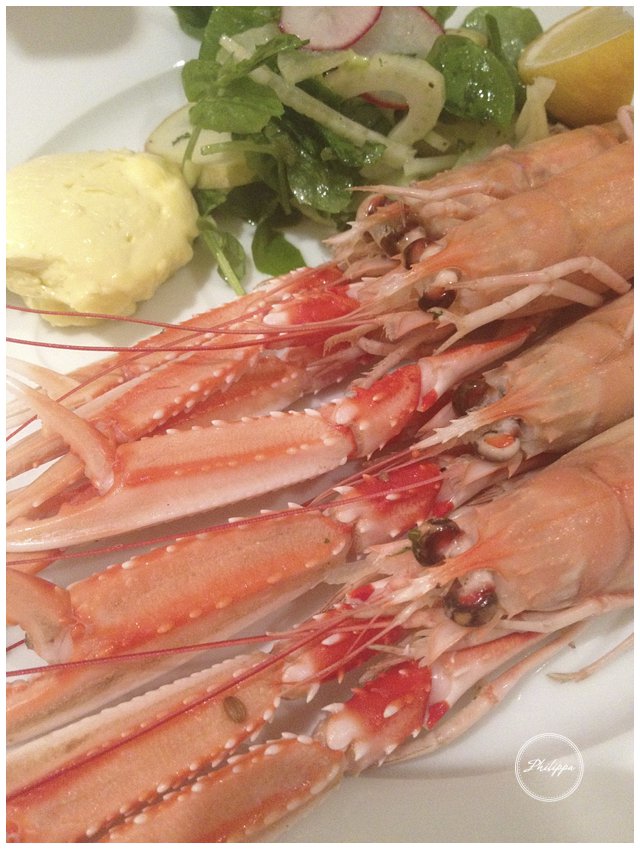 Job done, a quick chance to have a brief moment down at  the water front then I'm back on the road and heading off to find some suitable Halloween treats………..