The spirits of Christmas…
Did you have a very merry Christmas? I do hope so. Mine was spent nestled in Dorset trying to work my way through a leg of local ham, a fridge filled with cheese, the House of Cards box set and my favourite Gin. All of which I did exceedingly well. I am however a firm believer in the importance and benefit of a balanced diet so I also consumed a lot of clementine's and winter kale. I admit one of which mostly in cocktails…no doubt you can guess which. Although you never know as alarmingly on a recent visit to a bar in London and they tried to convince me their avocado margarita was the next best thing.
Balancing out the cutthroat viciousness of Washington politics I also binged on a large helping of Nigellas cooking shows. I tell you, that woman uses almost as much butter as me!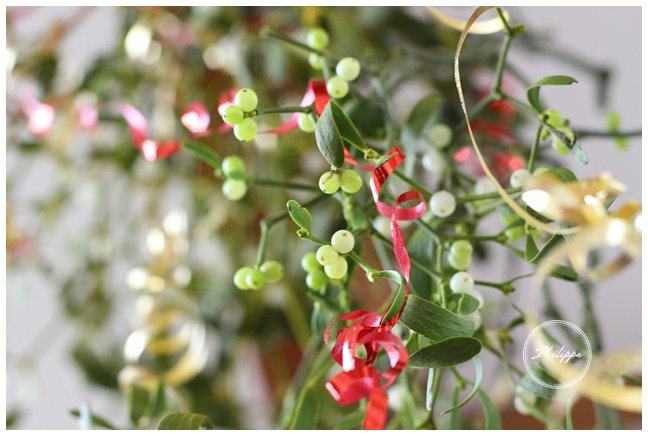 My December was also a happy balance of weekends cooking in large country houses, warmed with log fires, Aga's and spaniels and trips home to party and feast with family and friends.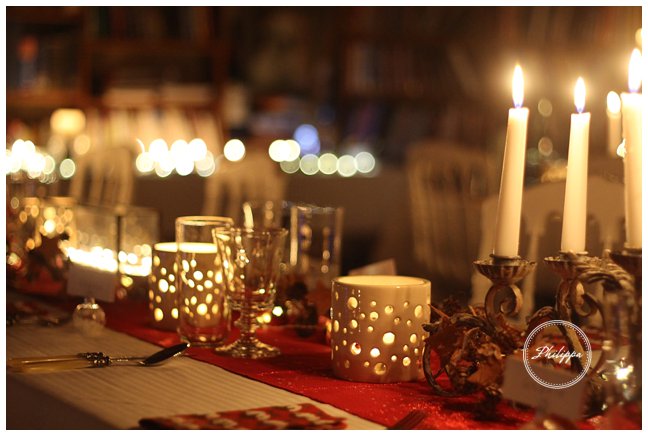 Cooking at home gave me a great opportunity to taste and champion some of my amazing local produce from the West Country. I got to try the first release from Dorset's now third producer of sparkling wine, D'Urberville Vineyards, which although still young shows very exciting potential. Dorset has south facing chalky slopes, geologically the same as found in the champagne region, which is partly why our bubbles are so bloody good!
We made a dent in the ½ Gotland hogget I bought from one of my favourite farmers, Malcolm Seal of Thunderbolt Farm. Hogget, is the meat from a sheep that is between one and two years old. It's no less tender than lamb but it has a much more complex flavour as has had the time to graze on delicious grass and pasture.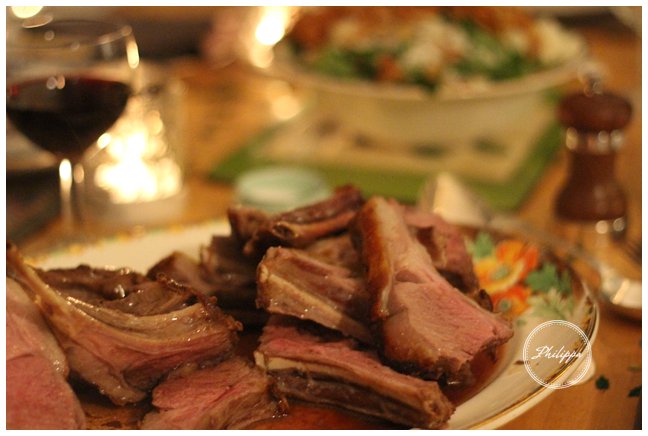 Then we also welcomed Cornish Kern onto our cheeseboard, which has just been voted the world's best cheese at the Cheese Awards. It was delicious and well worth trying if you can get hold of it. Expect long nutty with sweet notes and a satisfying crystal texture. Augmenting it with our home made medlar jelly which, although not award winning, was a worthy companion and added to the occasion. I am ashamed to admit that continuous travel and the excitement of pastures new sometimes makes me forget the impressive ingredients to be found just outside my own door.
The above is Kentucky Fried Pheasant, the perfect way to serve it to pheasant virgins.
I've noticed when cooking for jobs at this time of year whether they are long weekend house parties, one off dinner parties or big Christmas parties they require extra thought and organisation. Shops always are super busy, supplies often low and fellow shoppers not at their most cheerful. It's also all too easy to get over excited when it comes to deciding what and how much to eat. When planning menus I of course find myself naturally drawn to winter comfort foods and festive treats, I mean who's mouth honestly doesn't start to water at the thought of fridges and larders groaning with edible delights. No one feels great however after several days of continuous over indulging. Increasingly I've noticed people like to tuck into piles of greens and vegetables and love any interesting seasonal salads that accompanies the main event. My most popular one at the moment seems to be a honey roasted root vegetable salad with lots of soft herbs, toasted seeds and a really good sherry vinegar, apple and mustard dressing. That said it is all about balance so spiced ginger cakes, roast ribs of beef and comforting pies and tarts are still devoured.
With New Year celebrations creeping up quick on Christmas's heal it can seem like the never-ending party. Now is totally the time to get experimental with your left overs to make sure nothing goes to waste with the added bonus you don't have to face the shops and although its been said many times, many ways, get as much sleep as possible and drink lots of water, it really does help you to feel functional.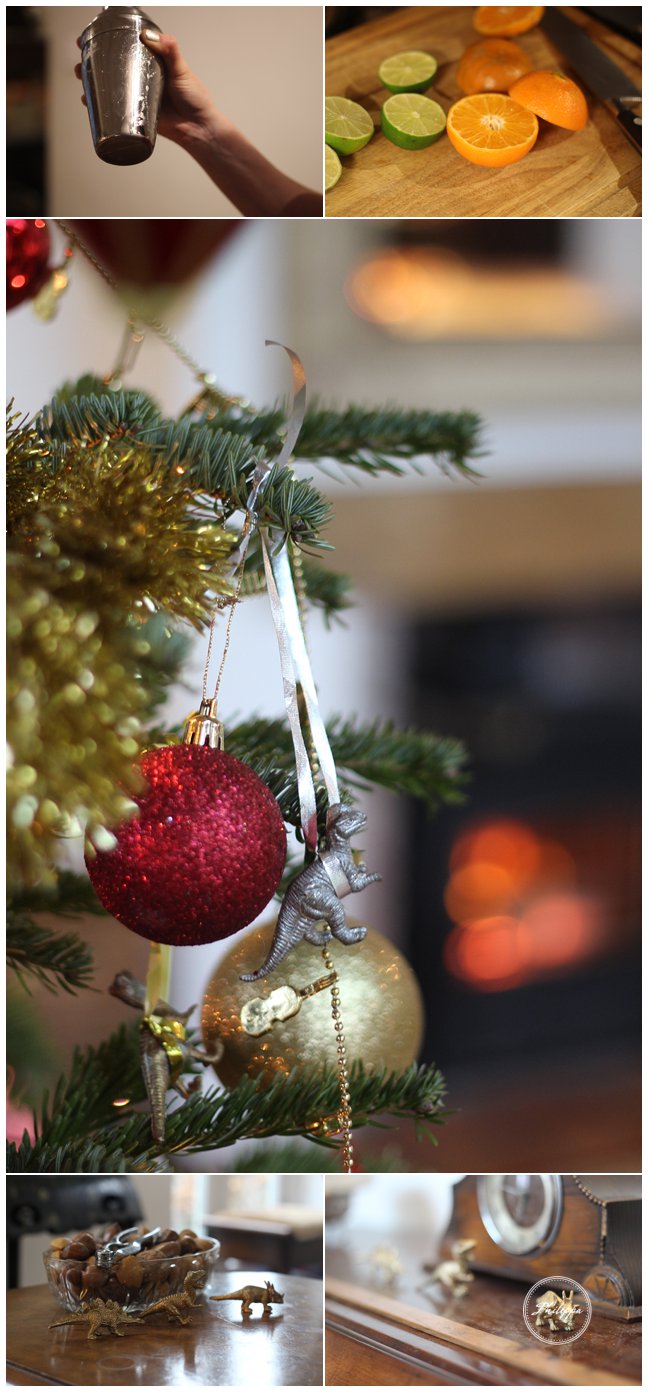 Once you have had your dose of water, sleep and feel ready for action again try this postcard's recipe, which is definitely in the spirit of Christmas. Well two spirits actually. Firstly rum, which gives the cocktail a warm, spiced edge and secondly rye which adds a vanilla and oaky twist. Both of which are guaranteed to make even Scrooge merry.
A huge thankyou to you all for following and sharing my culinary adventures and I wish you all a very Happy New Year.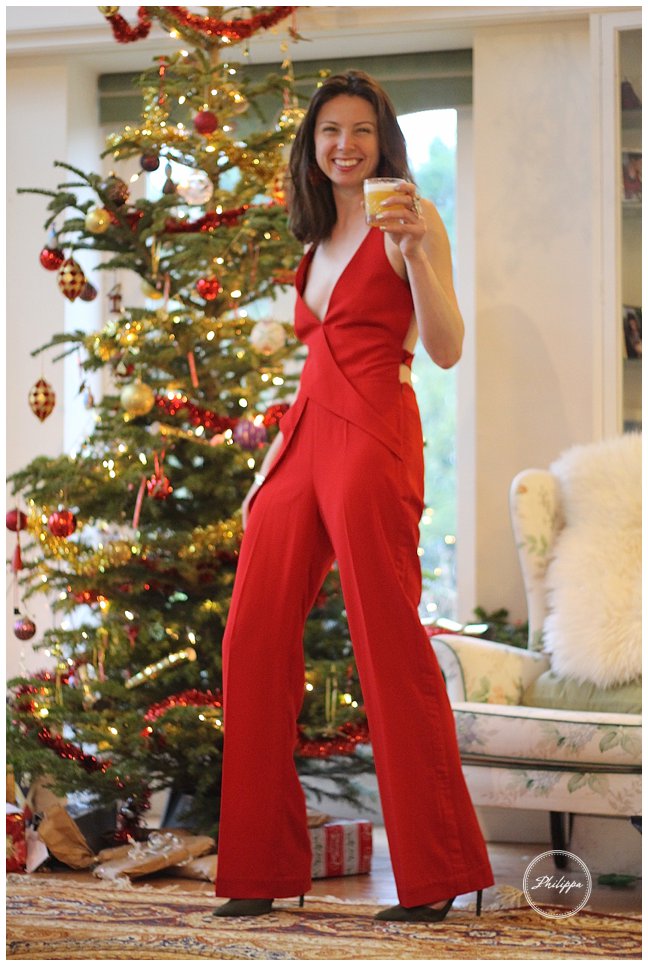 (This bespoke jumpsuit is made by a very exciting emerging talent in the British fashion industry Emily Bowers – Clark, )
This week
Clementine's eaten: 27
Clementine's drunk: 32
Strawberry flavoured quality street left: all of them
I'm driving : a reindeer
Every home should have: a bottle of Dorset's new sparkling wine D'Urberville
Rum, rye and clementine sour
A delicious cocktail is a brilliant way to get the party started/ keep the party going and keep every one in a merry mood. Seasonal additions are a fun twist and in this drinks case the clementine juice is a much needed source of vitamin C to help keep the winter lurgies at bay….OK who am I kidding drinking this cocktail is not really going to help with that but it defiantly tastes great!
Serves 2
2 limes, juice only
2 clementine's, juice only
2 shots rye
2 shots rum
1 shot sugar syrup
1 egg white
ice
a sprinkle of ground cinnamon
Place your cocktail glasses in the freezer
Pour into a cocktail shaker the lime and clementine's juice, rye, rum, sugar syrup and egg white, Place the lid on and shake vigorously for 30 seconds.
Add a handful of ice and shake again – shaking with out ice first seems to give a better head.
Strain into your cocktail glasses (filled with fresh ice if you want a longer drink) and top with the egg foam. Sprinkle with cinnamon and drink. Guaranteed instant merriness.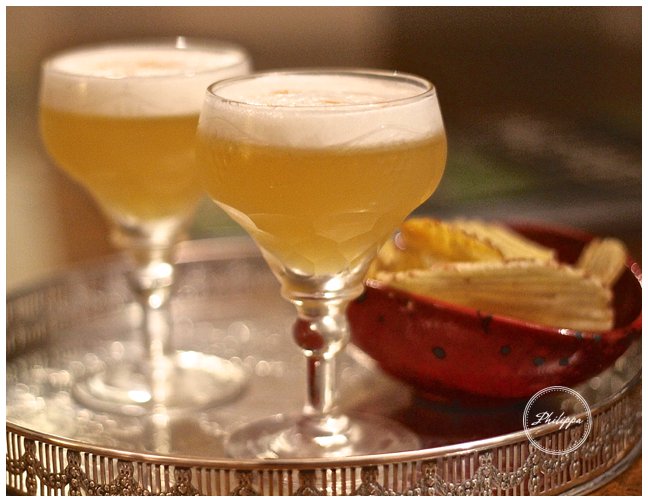 Next Stop…the North of Scotland!