Far from the Madding Crowd…
Well actually it was the complete opposite as last week went a bit like this…
Sorry? Philippa who??
My Edinburgh chef friends might have wished they said when they got the call.
"I need to you to come and help on a job… You will? Lovely! Meet me Sunday at 09:11 under the clock at Waverley station. Bring raincoats, sun cream, and midge spray. Oh and get plenty of rest…"
Our mission was to cook feast after feast for a large group of young revellers having a 4 day party in the Highlands. Our train journey up was spent checking through lists and finalising our battle plan. We needed to leap into action as soon as we had arrived in order to stay on top of our task. I had spent the week before tapping furiously at a calculator working out how much food to order and giving the execution orders on various beasts from a local farm. The on-site front of house team and organisers were primed and ready for our arrival.
The first evening was spent serving a supper for 20 and prepping for the next day: a BBQ for 50, afternoon tea for 90 and dinner for 100. The BBQ was to take place out in the wilds, so there was carful packing, double checking lists and lots of prep. It was a late (but jolly) night and we only briefly came unstuck after midnight when I gave each of us a flavoured jelly to make and we all had to do the relevant conversions. It turned into one of those mind boggling maths exam questions along the lines of: If Jenny had 2 pints of sloe gin that she wanted to set into jelly at a 45 % stronger ratio than Peter but could only use gelatine sheets that were 67 % the normal size what would her recipe be? The situation soon turned into every chef for themselves and we all made our part of the 100 jelly boat armada and filled our eclectic mix of jelly moulds.


Day 2 started early with final prep and packing for the BBQ for 50 (after we had all individually made casual but hasty bee-lines to the fridge to check each of our jellies had set). They all had, so we fully turned our attention to the mission of heading out into the wilds to become free-range chefs and cook the BBQ.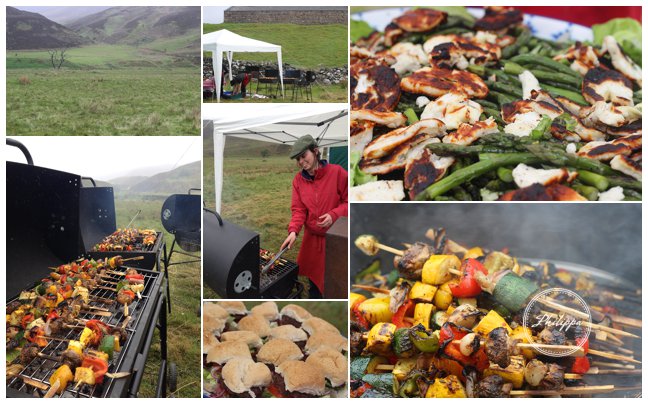 Fuelled by the fresh air nothing could stop us getting ready for the arrival of the guests. Not the deep fast flowing river we had to cross, not the hills we had to climb or the rain we had to battle against when trying to light the coals. At 1 o'clock we had the first set of vegetable kebabs nicely charring over the coals, the venison burgers were ready to grill and the jugs of Pimms were all set to pour. The guests arrived just as the sun passed the yardarm, a sound system of moderately load music was switched on and the eating began.
Day 2 part 2 started and ended in tidying up lunch and setting out an afternoon tea of smoked salmon blini, venison sausage rolls and 90 rice crispy cakes (only 10 of which made it back). The chefs then dashed back over moor, mountain and river to the kitchen to finish off prep for that nights dinner for 100.
The menu read as follows:
Slow cooked lamb in Whisky with salsa verde
Baked wild salmon with lemon butter
Cyprus potatoes cooked in white wine and saffron
Puy lentils with asparagus, broad beans and peas.
Green salad with garlic chilli broccoli
Dessert
Jelly and Ice cream table
Salted caramel ice cream
Chocolate ice cream
Pineapple and rum sorbet
100 jelly boats, sloe gin and raspberry, lime and ginger and elderflower
Eton mess
The diner was to take place in a beautiful teepee tent with a makeshift (but nifty) kitchen attached. It was only a short drive away from our base camp and conventional kitchen we so we did as much prep and cooking as we could before loading up the trusty Landover (again) and heading over. The stunningly dressed guests all spilled into the marquee pretty much on time and the next set of feasting began.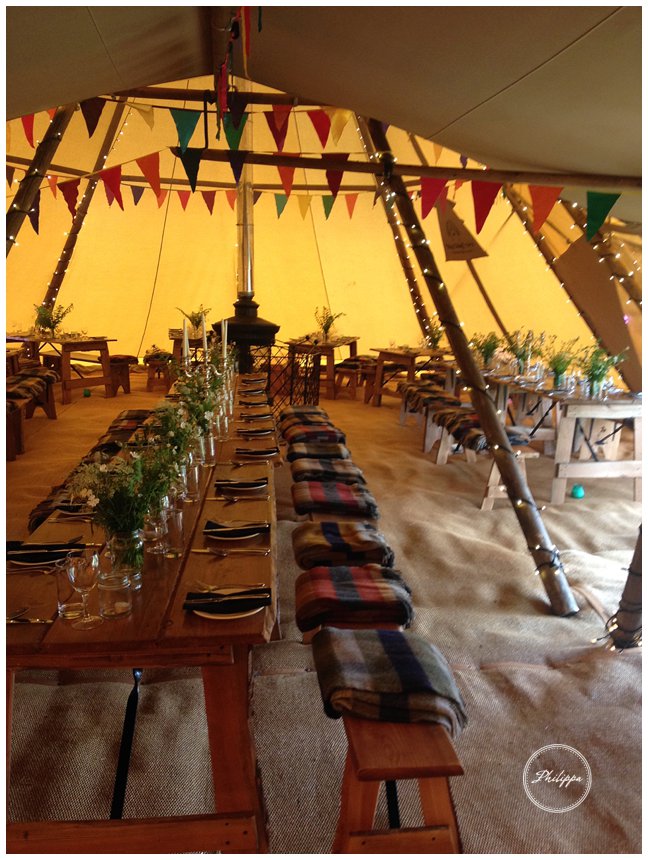 As soon as dinner was over the music got pumped up and some serious dancing began. Us chefs headed back to start the next task of making a 2 am sustenance pizza drop. We returned to the party around 1am and it wasn't long before we had several visitors storming the kitchen drawn by the smell of our slow cooked tomato sauce and the first wafts of melting mozzarella .
Pizza !!! The word had got out and we had to hold off the baying dance floor until we had our first few trays ready.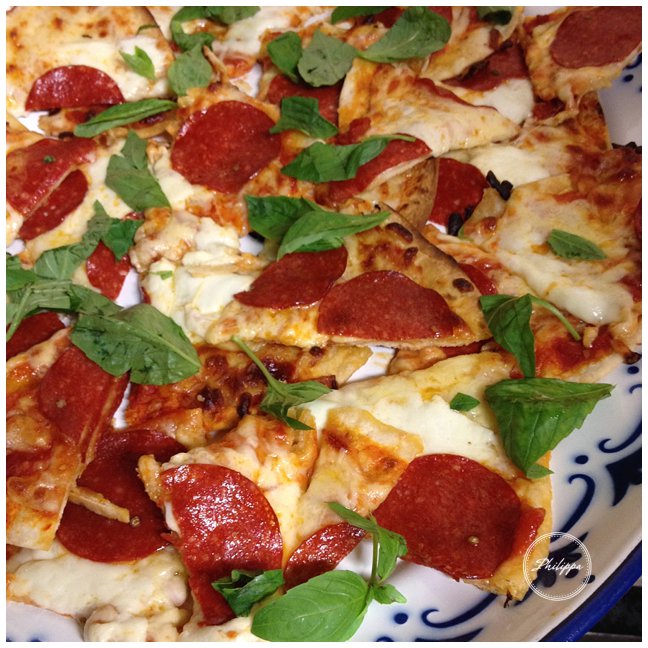 Having satisfied the crowd we left them to it while we headed back to base to catch a few hours kip before the big breakfast.
Day 3 … With the buoyancy of youth the revellers where bright eyed and bushy tailed ready for breakfast by 11am. Sausages, crispy bacon, fried eggs and home made baked beans were gratefully wolfed down back in the teepee tent that had magically been whipped back into shape by the  morning fairies and although the dress code of the crowd had somewhat changed, spirits were still high.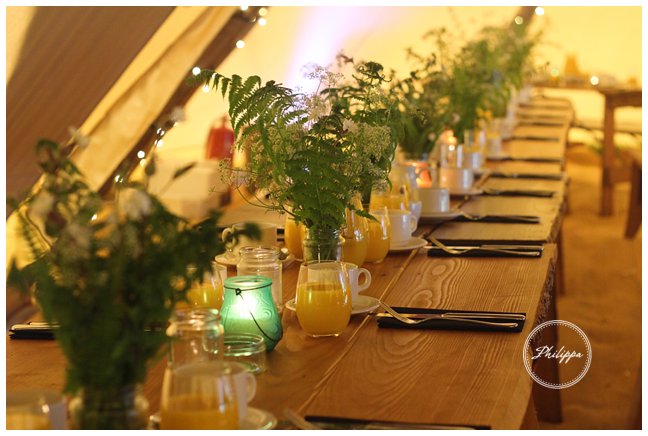 Day 3 part 2 was to be Curry Night for 30 so once breakfast had been polished off we headed back to the kitchen so we could delve into the spice racks to make our Thai prawn curries, chicken kormas, Bombay potatoes and saffron rice.

Every one was ready for a relatively early night however they still managed to summon the energy and enthusiasm to enjoy the desserts of chocolate and praline torte, ice cream and the spare text-book wobbly jelly.
Day 4, the grande finale was a brunch. Platters of smoked salmon, scrambled eggs and brown toast and stacks of American style blueberry and banana pancakes with jugs of warmed maple syrup and double cream.
Then that was that, party over.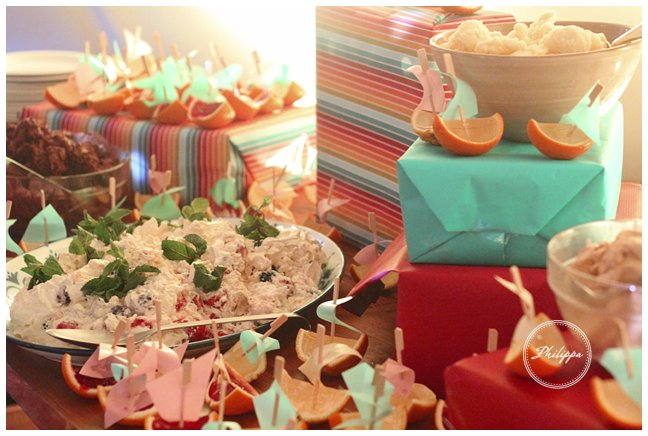 This Week:
Alcohol cooked with: 6 bottles white, 2 bottles red, 3 bottles whisky, 3 bottles fino, 1 bottle sloe gin, ¼ brandy.
Every home should have: a river crossing.
Clothes are out, glitter paint is in.
Sleeping : is not an option
Its all about : 2 am pizza sessions.
Slow cooked lamb in whisky and rosemary with potatoes cooked in saffron, bay and white.
Assuming you probably wont want this recipe for 100 I have scaled down the portions. It is however great for a large gathering as is great to make in advance, easy to serve to a crowd and most importantly is super delicious. As it is a rich dish it works well served with an an acidic side salad (dressed with balsamic or sherry vinegar dressing) and works perfectly with a salsa verde. When slow cooking food with alcohol I often add an extra splash in just before serving to lift the flavour and give it a final punch.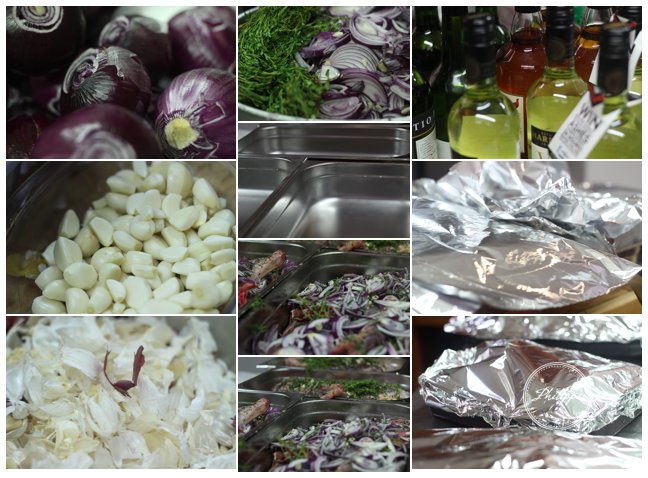 Serves 6 – 10
1 large lamb shoulder
3 tbs. olive oil
4 red onions
1 head garlic
40g rosemary
40g thyme
400ml bottle whisky
½ bottle white wine
Pre heat the oven to 200°C.
1)Season the lamb with salt and pepper and rub all over with about 3 tbs. olive oil.
2)Peel and chop the onions and garlic into thin slices and lay in a big roasting dish.
3)Take the rosemary and thyme off the stalks and put ¼ of it aside.
Finely chop the other ¾ and scatter over the onions.
4)Lay the lamb on top and roast in the oven for 20mins, (it should start to be turning golden).
5)Remove from the oven, pour on all the wine, 1 pint water and 300 ml whisky.
Cover with baking paper then seal the dish with foil.
Turn the oven down to 160° and cook for 3 -4 hours or until the lamb easily shreds off the bone.
6)Once cooked remove the paper and foil and leave to cool slightly.
Once cool enough to handle shred the lamb in chunks discarding the bones. Add the rest of the whisky and check the seasoning.
It is now ready to be served or can be cooled and refrigerated for another day.
To serve finely chop the remaining herbs and sprinkle on top serve with the saffron potatoes, a vinegary salad and salsa verde.
Potatoes cooked in saffron, white wine and bay.
These potatoes are very pretty and make a great side dish as are so delicious and keep their heat really well, which is perfect for serving a crowd.
Serves 10
400ml olive oil
3 white onions, peeled and diced into 2 cm squares
10 gloves garlic, peeled and chopped in half
6 green peppers (I used a mix of green, red and yellow) deseeded and cut into 2 cm squares
15 bay leaves
2 kilo potatoes ( Cyprus are fantastic as have lots of flavour and hold their shape but otherwise other waxy varieties will work)
½ bottle white wine
1 heaped teaspoon of saffron mixed with 200ml just boiled water left to infuse for at least 10 mins
1)Wash and ¼ cut the potatoes lengthways.
2)Pour the oil into a big pan and add the onions, peppers, garlic and bay.
Sauté for 10 – 15 minutes until starting to soften.
3)Add the chopped potatoes and white wine.
Season with salt and pepper then cook on a low heat with a lid on, gently stirring occasionally until the potatoes are cooked through ( about 20 – 30 mins).
4)Once cooked stir through the saffron water and check the seasoning.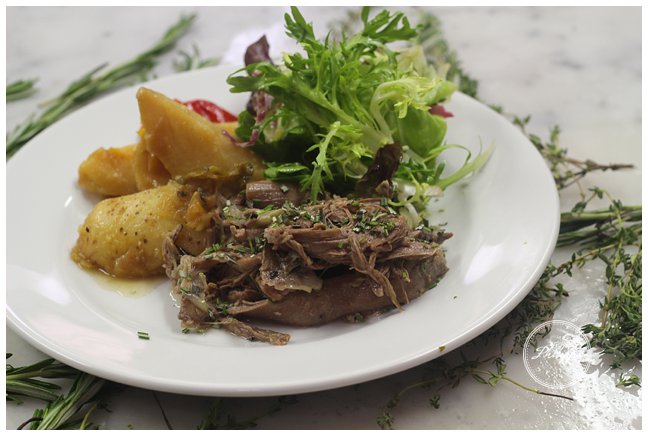 Next time ….
Well with the job successfully accomplished the A team can now part their ways; I'm packing my summer suitcase and heading to the East Coast, State side.