The butcher, the baker, the baker, the baker, the baker, and the baker
The local village  has a population of about 12  ( OK, I under exaggerate)  and yet it has not one but two thriving bakeries.  The interiors are not chic, just simple Formica tops, local event posters decorating the shabby walls and of course trays of delicious freshly-baked bread. This is great proof of consumer power and the importance of supporting local shops.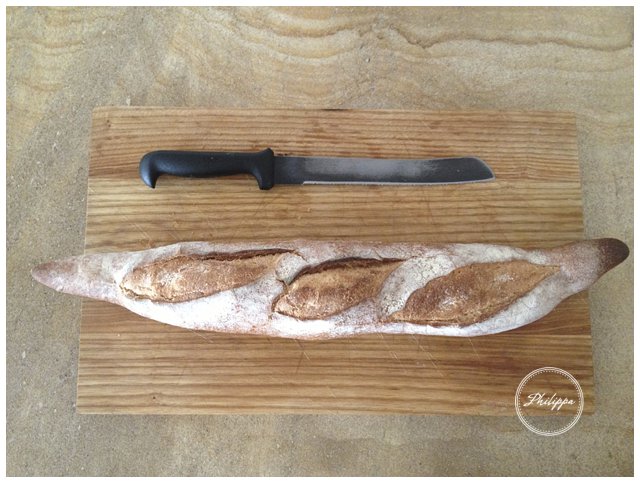 Many of my clients ask for no bread to be served with meals.  There also seems to be an ever increasing amount of people with gluten and wheat problems – now is not the time to go through all the possible reasons for these intolerances. However I will say this, before you scream and run from the bread bin, ask yourself, are you eating real bread?  Industrialisation has hugely changed the way wheat is farmed, milled and made into bread and some say that these process-heavy production methods (particularly milling and fermentation) may make it disagreeable for our bodies to digest.  In my view, quick-fermenting, bright-white, long-lasting, pre-sliced loaves should not be classed as bread.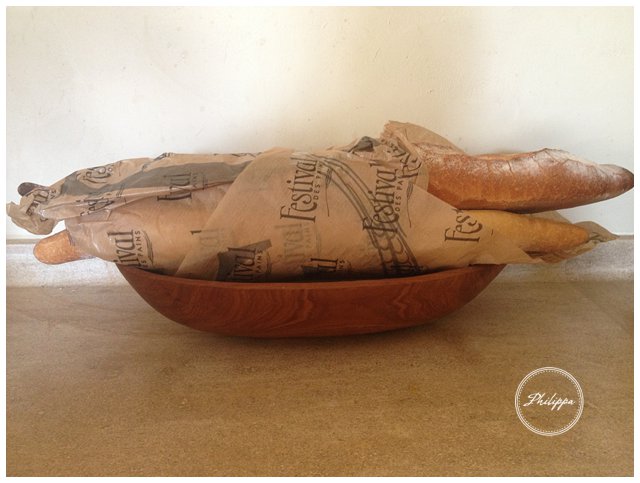 ….. Jumping off my high horse and mounting "ma bicyclette" early every morning I cycle into the village to buy "les baguettes" and a few croissants.  It always pays to have a special smile for your baker (and butcher) so it was with great delight that whilst snapping a few photos through the door of the bakers at work, they caught my eye and lured me in with macaroons and freshly baked croissants.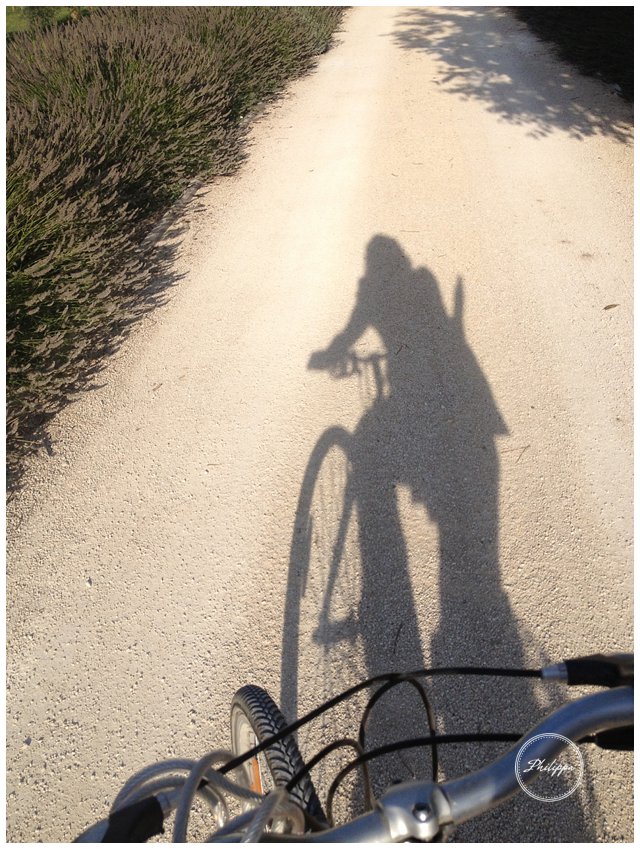 Swooning slightly watching the skill of the five bakers while they rolled out the croissants and baked rack upon rack of loaves I was drawn into the romance and charm of this art.  After my tour of the different work stations and having been fed and plied with delicious strong black coffee and pastries  I bid my farewells and returned to the house to start the preparations for lunch.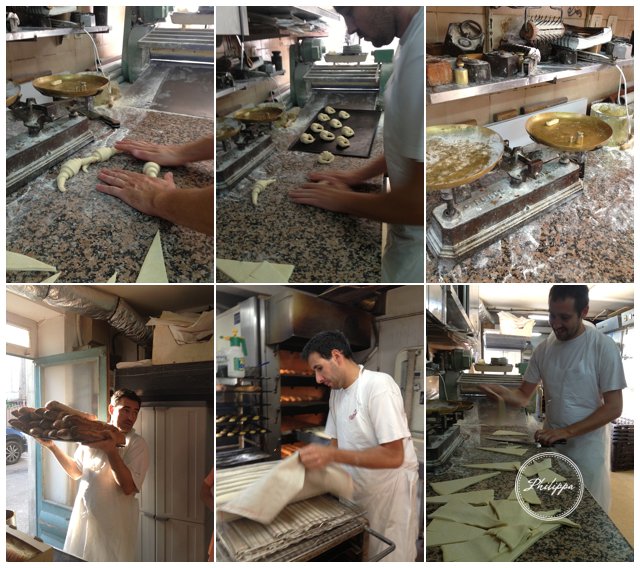 I hate wasting food. After my visit to the bakery I am even more conscious of not wasting any of yesterdays bread so am continuously thinking of ways to use it.   Here are some of the recent second lives I have given it…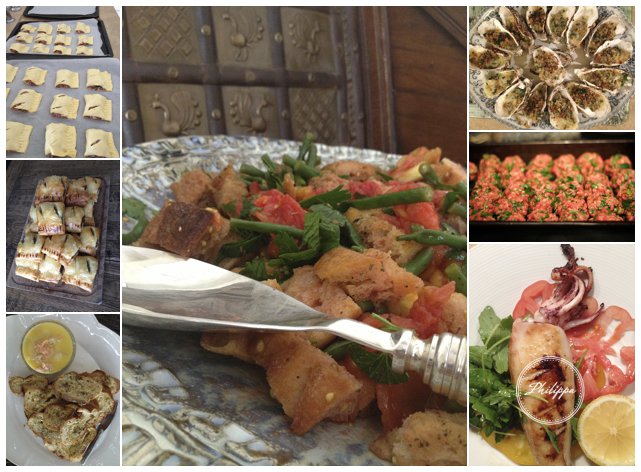 From top left moving clockwise – sausage rolls (bread in the filling), panzanella – toasted bread dressed in vinegar, oil and tomatoes, ,oysters with gruyere and breadcrumbs, Moroccan meatballs – I often add bread  that has been soaked in milk or whey to meatballs to soften the texture, crisped up and herbed bread for pate, stuffed squid with bread and chorizo,
On the blue moon occasions where we have an abundance of croissants left I love making it into summer pudding, adding peaches and apricots to the usual orgy of berries.  A perfect dessert for the warm long lunches in Provence.
Summer Pudding with a french twist
Serves 8
you will need
5 x 1 day old croissants sliced horizontally into 3 or 4 (my other favourite is using day old ciabatta or you can use a farm house white)
800g of fruit  – which could include blackberries, raspberries, strawberries – cut into chunks if very big, red currents, black currents, apricots and peaches cut into chunks the same size as the cut strawberries. Use mostly berries in the mix with maybe just 5 apricots and 3 peaches.
250g castor sugar
400ml red wine –  I once used Chateau Latour 1998 only because the client had some left and told me to!  Otherwise a busty french red would be perfect.  Like wise if using ciabatta maybe its more fun to use an Italian red like Valpolicella.  Always cook with wine you would be happy to drink.
1 vanilla pod
1 cinnamon stick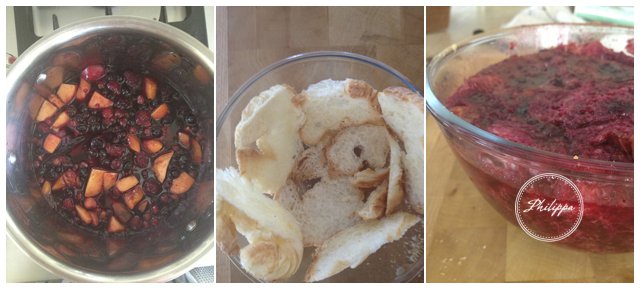 Method
1)In a saucepan add the wine, sugar, cinnamon and vanilla pod – spilt lengthways and seeds taken out then the seeds and pod added.
2)Heat until the sugar is dissolved – a couple of minutes
3)Add half the fruit, bring to a simmer for 2 or 3 minutes then turn of the heat.
4) Add the rest of the fruit and gently stir. Leave to one side.
5) Line a 3pint bowl with the sliced croissants to form a layer.  
6) Strain the fruit through a sieve, saving all the delicious juice. Then place the fruit in the lined bowl. Pour over some of the juice, keeping the rest for serving. Top the pudding with more sliced croissant pieces, a bit more juice and then cover the bowl with cling film.  Weigh the pudding down with a small plate and a weight on top  – a mortar or a few tins usually work and leave in the fridge for at least 6 hours.
To serve remove the weight and the cling film, place a plate over the top and flip over, pour over some of the the reserved juice.  Serve with a big jug of double cream.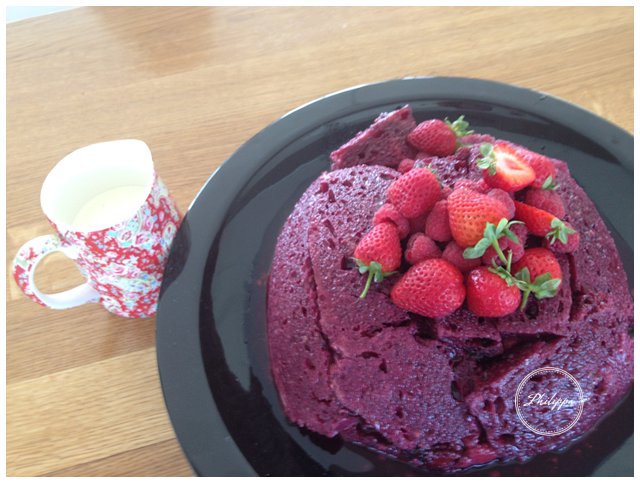 I must confess the croissant  summer pudding did not have time to be photographed before it was eaten, pictured above and below is its' Portuguese cousin made last summer. I used red wine from the Douro region and a home-made white loaf.