Its raining……nothing.
Skiing, when snowfall has been, poor gets rather tricky. Beach holidays without the sun are pretty miserable. Camping in torrential rain is not much fun ( well actually camping in any weather is not my idea of fun) and fishing weeks without water are impossible.   So when I headed up to the beats on the river Findhorn ( this is a technical term for parts of the river you fish and not a highlands music festival in case you wondered) it was somewhat alarming it had not rained in a while and none was imminently due.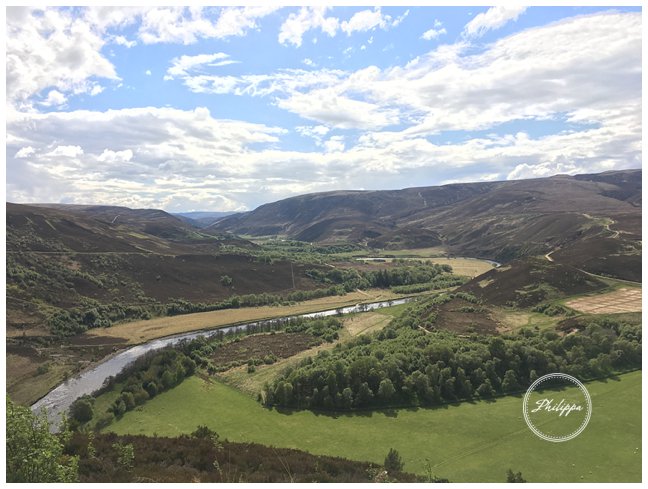 Now being Scotland the group of 20 fisherman and fisherwoman we were to cook for were all pretty upbeat that some would be along soon. Anyone who has spent anytime north of the border will have had experience that this country does changes of weather extremely well.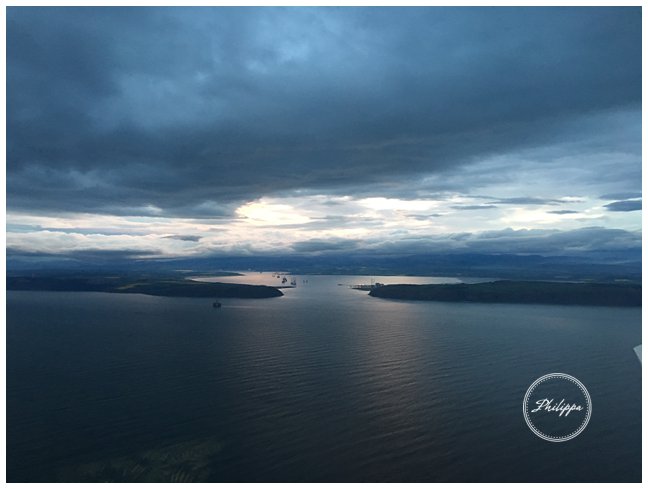 As the week progressed the river got lower and sadly dead wild salmon were spotted on the bare bones of the river. This can be due to a lack of oxygen causing disease to spread rapidly amongst other factors.   Those fish that were alive had tried to bury themselves deep in the river as hate too much light as it makes them feel distressed, so fishing was impossible.
By day 5 no fish had been caught but somehow morale amongst the entire group stayed high. I would like to think it was entirely down to the amazing breakfasts, afternoon teas, dinners and spectacular picnics we were making for them…but I think Mr Berry Bros & Rudd had something to do with it.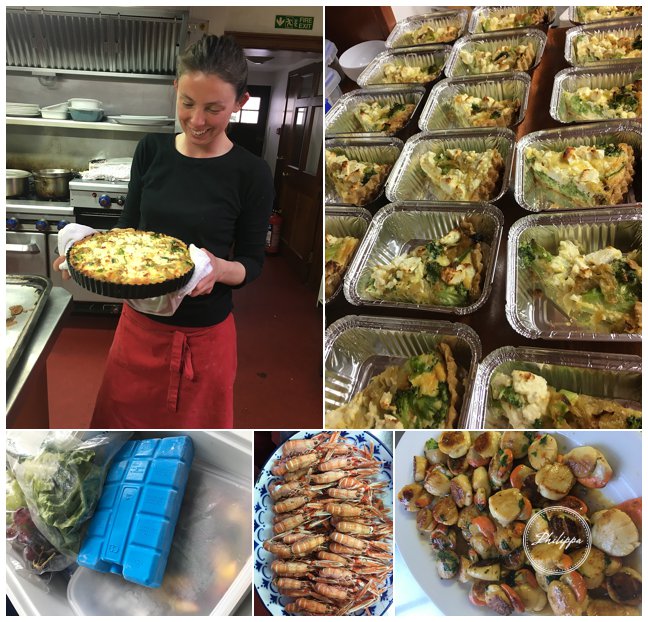 On the upside of this, the lack of rain around May meant the grouse chicks, which hatch around then, stand a good chance of survival. They rely on moderate weather to survive their first few weeks as well as an abundance of insects and bugs to munch on. So hopefully it should be a great season come the glorious 12th.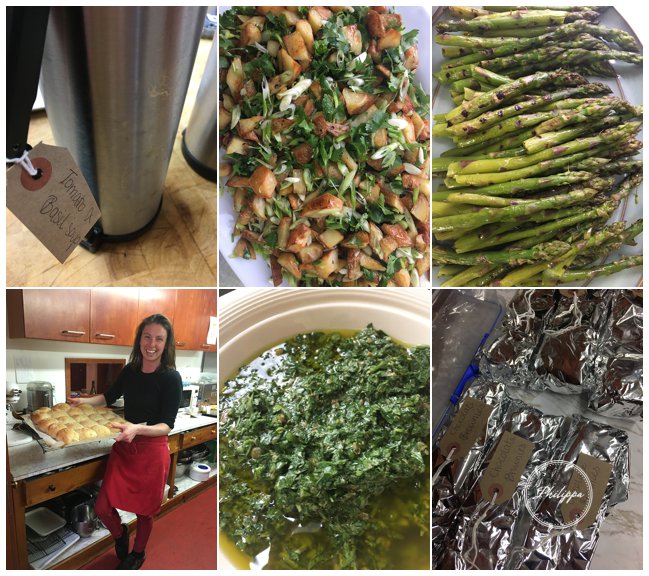 Salmon fishing season roughly lasts in Scotland from February to October, Rainbow trout, which can be found in the same rivers, can be caught all year round ( though they weren't playing ball either).  Wild salmon fishing is illegal on Sundays ( as is shooting game birds) and in Scotland unlike England you do not need a rod licence, just a permit for the river you would like to fish.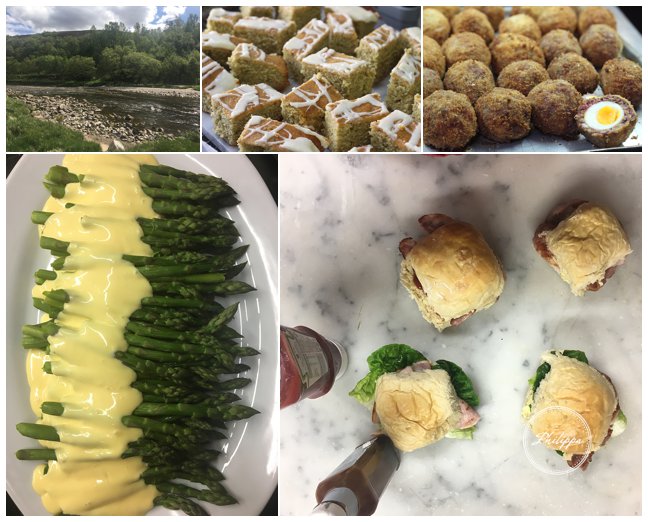 It was a fun busy week cooking for the group but I did manage a few little escapes to the river myself with my favourite Scottish spaniel. This however  resulted  in every outdoor shot I tried to take of the river being photo bombed by the dog.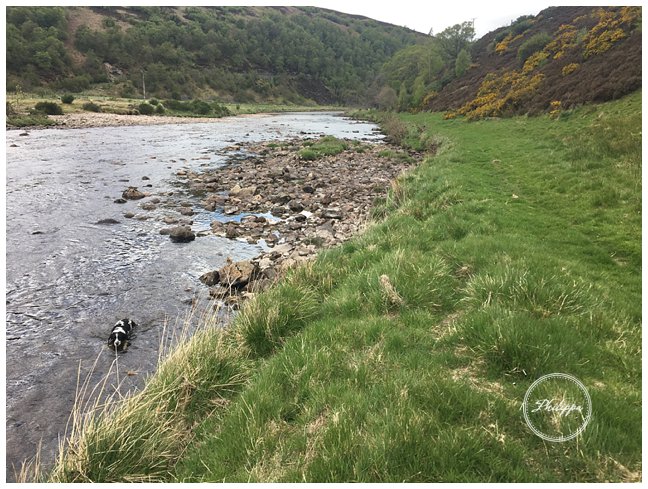 Getting to cook a wild salmon next to the banks it was caught on is one of my top culinary moments every year so I think I was more disappointed than the group that none could be caught. The rain has come down since my week there, too much at some times which can be equally as devastating, but there are of course something's we can't control, interfere with and manage, especially in wild habitats.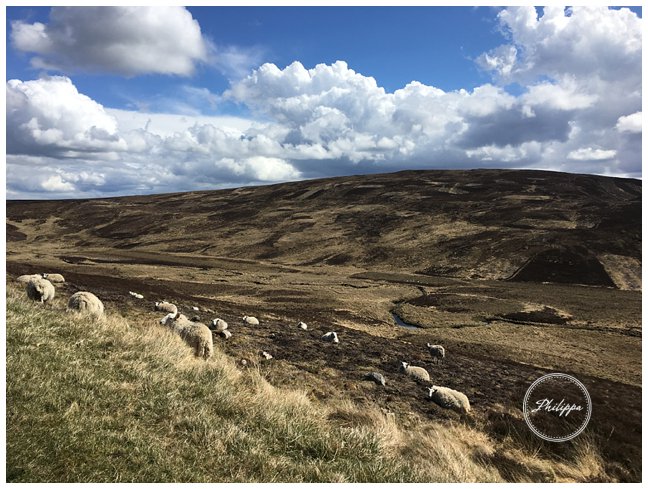 It also means this postcard recipe has to focus on something other than wild salmon…..
Providing a delicious and varying picnic was a fun part of the week and as the group had expressed they were game to eat anything we enjoyed providing a diverse spread.
Every morning we packed picnic baskets full of goodies. There were game scotch eggs, spanakopita's, freshly baked rolls stuffed with; rare roast beef, freshly made coronation chicken, peat smoked salmon Scottish honey and mustard roast ham, venison sausage rolls, freshly baked brownies, bakewell tarts, soups, salads and this postcard recipe… venison pasties.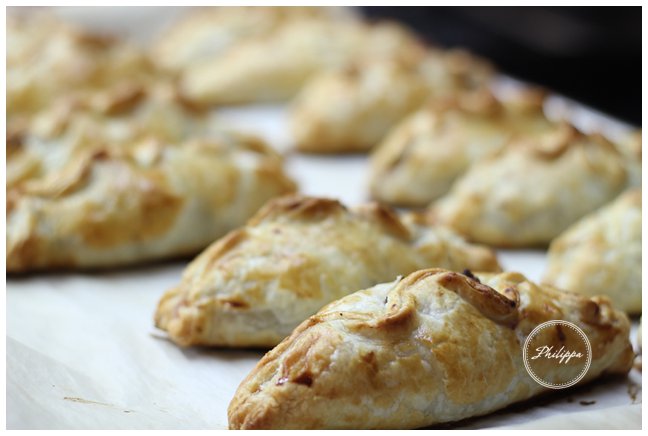 This week
Wild Salmon caught: 0
Rainfall: 0 mm
Picnics packed : 120
I'm driving : the dependable range rover
Times Photo bombed by spaniel dog: 43
Venison Pasties
makes about 12
5 tbs olive oil
100g butter
700g Venison meat cut into small ( 1cm approx) chunks
2 onions peeled and diced into 1 cm cubes
4 garlic peeled and finely chopped
300ml game, beef or chicken stock
100ml Beer or Guinness
200g peeled and 1 cm cubed potatoes ( waxy best)
Lea and Perrins sauce ( to taste)
2 – 3 tsp Corn flour mixed with 2 tsp water water
2 egg yolks mixed with 2 tbs milk
1 kilo rolled all butter puff pastry,
Pre het the oven to 140ªc
In a large frying pan sauté the onions and garlic in 3 tbs of the olive  until soft ( about 15 mins)  then place into a large ovenproof dish .
In the same pan add the rest of the oil and butter and brown all the meat and add to the sautéed onions.
Deglaze the pan with the beer or Guinness and add to the meat.
Add the stock, season with salt and lots of pepper then seal with baking paper then foil.
Bake for 3 hours or until the meat is really tender.
Meanwhile cook the potatoes in salted water until tender and drain.
Once the meat is cooked, add a good few splashes of lea and perrins and check for seasoning . Then add the corn flour and water , stir well then gently mix in the potatoes.
Leave to cool completely.

Pre heat the oven to 180°C.
Cut the pastry into   16cm circles.
Brush one side with etc egg yolk mix.
Place a few spoonful's of the venison mix in the middle then fold up the edges and crimp.
Brush the outside with the egg yolk mix and place on a lined baking sheet.
Repeat to you have used up all the meat mix or pastry.
Bake for 40 mins or until piping hot and golden.
Leave to cool then wrap and take to the river bank/ park/ kitchen table.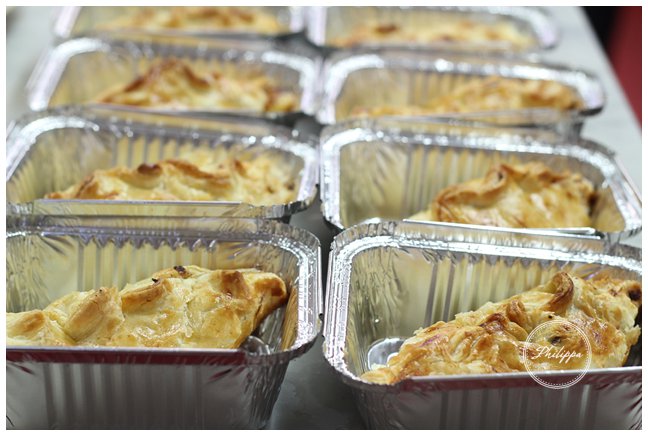 Nest postcard from my week at the Hay on Wye festival