I am pretty sure it was The Spaniel, in the Billiard Room with the Cream Tea
that left a trail of muddy paws for the house keeper to deal with…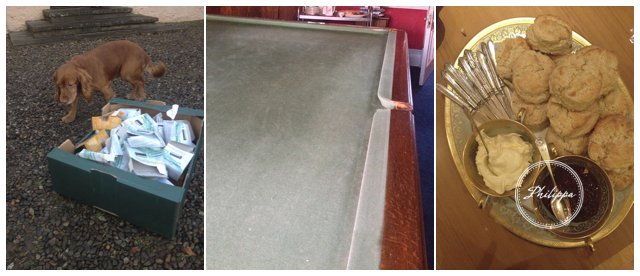 Having finished the job in Hampshire, with clear roads and a little bit of luck, I got back to Dorset in time for a late afternoon tea with my parents.  Then I was soon setting off to Perthshire in Scotland where I was to cook for 12 guests attending a pheasant shoot in a magnificent setting near Blairgowrie next to the River Tay.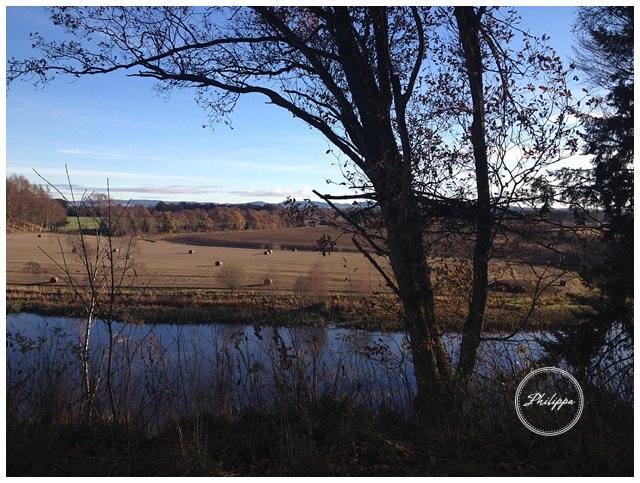 Cooking for shoots is frantically fun.  Before sunrise the days work begins preparing breakfast and packing the elevenses into wicker hampers along with the sloe gin and tumblers.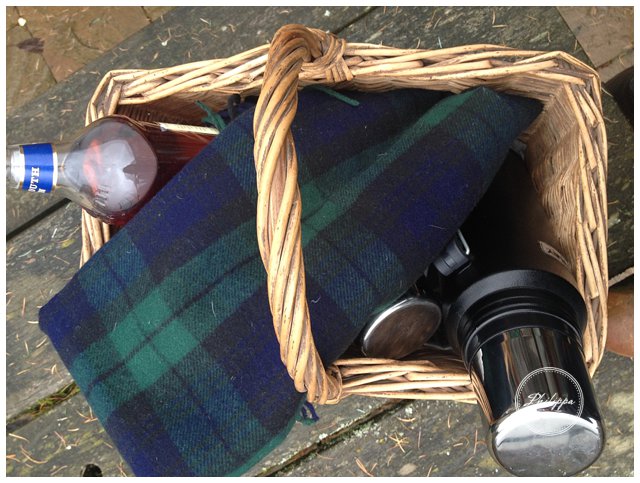 While the guests are out on the first drives of the morning, this is when the beaters ( people with sticks) walk towards the line of guns stirring up the pheasants into the air,    the house is busy tidying up breakfast and preparing for lunch.
Outdoor pursuits and nippy weather can work up quite an appetite so lunch is hot, hearty and needs to be served sharpish as everyone is keen to get back outside to get a few more drives done before the light fades. Then its back in for afternoon tea, then pre dinner drinks and snacks, then dinner itself which is usually another hearty affair.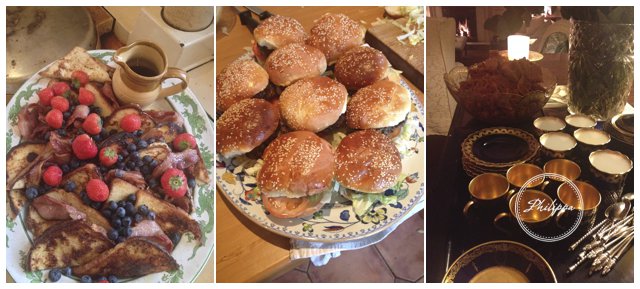 As you can imagine the kitchen is non stop and I have to say I relish the challenge these sorts of jobs present.  Super organisation is the key as there is little time to pop to the shops for something that has been overlooked. Now, the restaurant trade taught me many things but did not present the experience of working with a carpet full of dogs beneath my feet. This is a new and fun challenge.  My new canine friends were all desperately hoping I would drop that juicy tray of slow roast pork belly or leave the mallards resting just in reach of their delicate mouths.  Thankfully by the second day they were all so exhausted from the days shooting they happily slinked off to bed when told and curled up to dream of the sound of the gun and falling pheasants.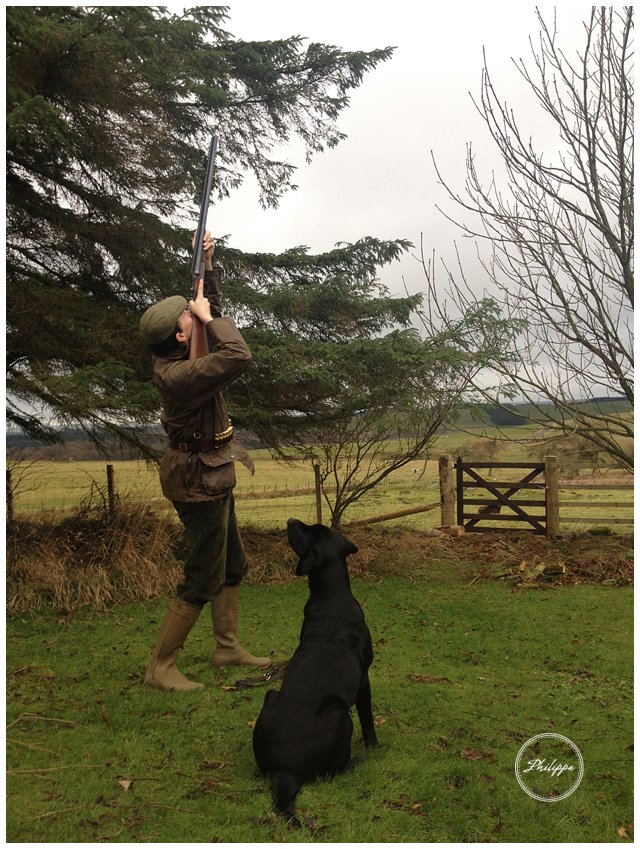 I was thrilled to be told by my client that there were pheasants and wild ducks to be used from last weeks shoot and could I think of something other than the normal roast for them.  As excited as a gun dog at the sight of tweed my mind was soon racing with ideas and the prospect of using game from the estate.  For this postcard recipe I would like to share the lunch dish of pappardelle pasta with  braised pheasant, cream, nutmeg and cavolo nero.  Here is how the days menu read.
Breakfast
Porridge
Black pudding, poached egg, crab apple jelly and granary toast
French toast with crispy bacon, maple syrup and berries
Elevenses
Chorizo, chestnut and butternut squash soup ( with pheasant stock)
Home made sausage rolls
Squares of rocky road
Pre lunch nibbles
Bloody Mary
Scottish smoked salmon with horseradish, creme fraiche on raddichio
Lunch
Main
Pappardelle pasta with Braised pheasant, cavolo nero, nutmeg and cream
Poached quince, chicory and walnut salad with balsamic dressing
Desert
Coffee, cheese board and brownies
Afternoon tea
Scones, clotted cream and strawberry jam
Lapsang souchong tea
Pre dinner drinks
Whisky sour cocktails
Quince and plum syrup with iced rum, lime and mint
Nibbles
Pancetta and parmesan Arancini with slow cooked tomato and aioli
Chicken liver and brandy pate with celery sticks and crisp bread
Dinner
Slow cooked wild duck with cinnamon, saffron rice, crispy onions, fried aubergines and cumin yogurt
Dessert
Salted caramel ice cream
Whisky and raisin ice cream
Vanilla ice cream with hot chocolate sauce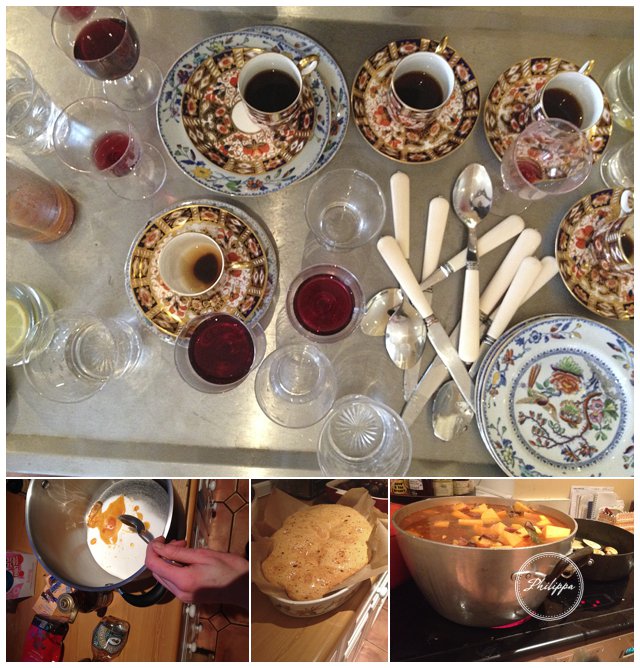 Pappardelle pasta with Braised pheasant, cavolo nero, cream and nutmeg
serves 4
1 brace of pheasants
1 white onion  finely chopped
4 bay leaves
glass of dry white wine
50g butter
2 large leeks
5 rashers of streaky smoked bacon cut into 1/2 cm chunks.
100g grated parmesan
about 20 leaves of cavolo nero (centre stalk removed)
300 ml double cream
1/2 nutmeg
2 egg yolks
400g pappardelle pasta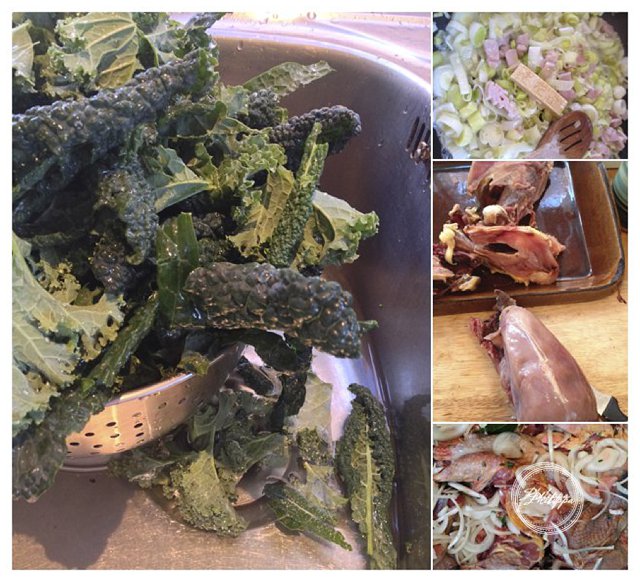 Braised pheasant
Remove the breasts and the legs of the pheasant (make a stock from the bones)
1)In a baking dish mix the legs, chopped onions, bay leaves and white wine, season with salt and pepper then cover with foil.  Bake for around 3 hours at 120 c or until the meat is tender and falls off the bone.
2)Leave to cool then shred the leg meat. ( you can use the onions and juices to make the base of a soup, you could add it to the pasta but I prefer not to have onions through the sauce).
3)In a frying pan on a medium heat add 1 dsp olive oil and fry the breasts seasoned with salt.  Cooke for about 4 minutes on each side or until just cooked through then leave to rest covered in foil.
Meanwhile…
1)Blanch the cavolo nero ( tough central stalk removed) in a rapidly boiling salted water until just tender ( approx 3 mins)
2)Slice and wash the leeks ( I cut mine in half length ways then into 1 cm semi circles)
3)In a frying pan add 50g butter and 1 tbs olive oil, add the leeks and chopped bacon then season. If you have a rind of parmesan chuck this into the pan while the leeks are cooking. Cook on a low heat until the leeks are tender ( about 10 minutes) then add the cavolo nero. Keep warm.
4)In a large bowl whip the cream until semi stiff and add the grated nutmeg, parmesan and 2 egg yolks.
Cook the pasta as per packet instructions.
Drain the pasta then pour immediately into the cream mixture along with the warm leeks and cavolo nero.   Slice the breast meat and add this along with the shredded pheasant.
Serve with extra freshly grated parmesan on top and a little extra grated nutmeg.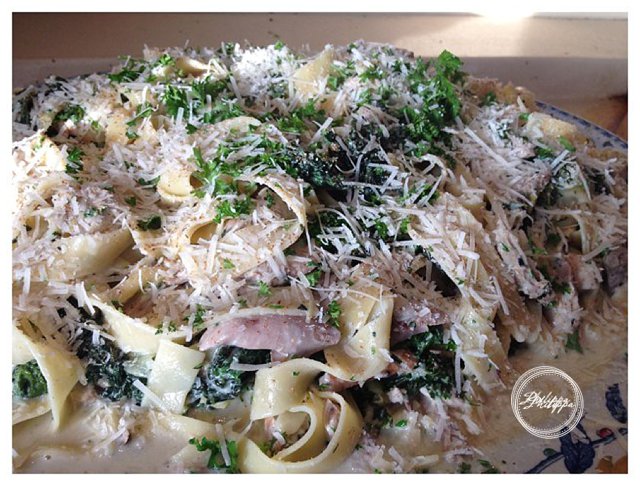 This weeks transport; Mercedes E class, Easy jet flight to Edinburgh, Audi A4 estate.
Shoot statistics
271 Birds
12 packs of butter
7 Spaniels
1 labrador
88 free range eggs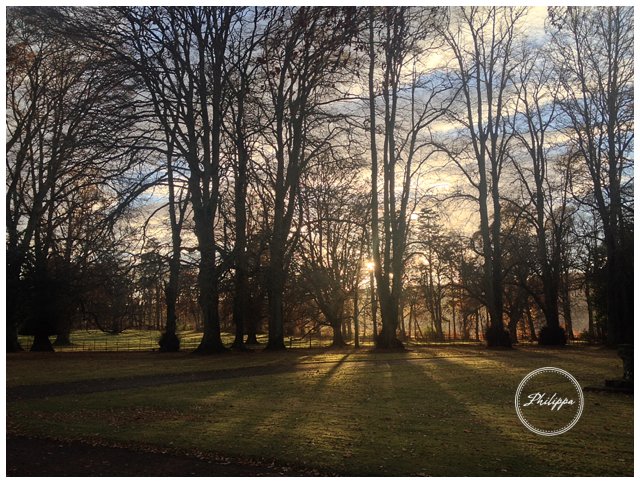 Next I am off to the south of France to cook for pre Noel celebrations and use the gluttonous amounts of black truffles, mushrooms and oysters that are so bountiful at this time of year in that part of the world.